Collaborating for Charity
Ashley and friends volunteer time to knit for those in need
Hang on for a minute...we're trying to find some more stories you might like.
Summer Break looks different for everyone. For some it might mean traveling to other countries or spending time with friends, but for sophomore Ashley Prow, summer means the start of a new volunteer project.
Ashley's goal this summer is to knit 7×9 inch patches for the charity Warm Up America, an organization established in 1991 that depends heavily on volunteers to create adult, child and infant blankets and afghans. They also make hats, mittens, scarves and infant clothes.
The urge to help didn't come out of nowhere. Ashley has spent several hours of her time volunteering, but decided this summer she wanted to entertain a new project.
"I do a lot of service work through my church, but one of my biggest hobbies is making things," Ashley said. "I did a lot of research into charities to see if there was anything I could do craft-wise to help out. That's when I found out Warm Up America takes little rectangle patches and assembles them into blankets. I had all the materials to make the rectangles, so I decided that's what I wanted to do."
The knitting sessions will be completed at Ashley's house with a small group of friends. Knitting has been one of her favorite childhood activities for many years now. Ashley has been knitting since fourth grade and her interest in this hobby has taken off since her childhood.
"I'd seen a bunch of crafts on the internet and from parents, friends and relatives," Ashley said. "I've always loved making things. I saw it and I said to myself 'I want to do that!' so I taught myself how to knit and it's really taken off from there."
Ashley's father, Stephen Prow, shares one of his happiest memories watching his daughter learn to knit.
"When Ashley was only 7, we took a family road trip to Hilton Head Island, South Carolina," Stephen Prow said. "Ashley decided she wanted to learn how to knit. We bought her some supplies and she checked out books from the library. By the time we arrived, she had already taught herself how to knit. She hasn't stopped since."
As for the cost of the project, the supplies are relatively cheap. Ashley has yarn sitting around her house that she uses for her own knitting projects. She will be able to provide the tools to get started to her friends while they knit together.
Her initial group of volunteers consists of four friends that have already agreed to help her out this summer. However, if the interest accumulates, she plans on partnering with Knitting Club to get a bigger turnout. Sophomore Tenley Wright is planning on lending a hand to help out with Ashley's project this summer.
"I do other volunteer work with the Special Olympics and helping with their sporting events," Wright said. "But I decided to help Ashley as well because I like what she's doing. I enjoy seeing my friend so passionate wanting to help out others. It's really cool that she wants to help out the world and make it a better place by doing something she enjoys."
A simple task that's cheap and fun for Ashley will end up helping others across the world. The donations go all over the United States and find their way into nursing homes, children's hospitals, daycares, churches, homeless shelters and veterans' homes.
"The biggest investment for this thing is your time," Ashley said. "The type of stitch really helps determine how long you spend making it, but you get to pick how you want to stitch it anyway. But, even a small seven by nine inch rectangle can take up to an hour."
One of the most rewarding parts of this project might be that her hobby can help others and make a difference in their lives. Ashley's father shares his favorite qualities of his daughter that would help her take on such a project.
"Ashley is very self-motivated and enjoys doing things for others," Stephen Prow said. "Finding a service project that incorporates a hobby that she loves is a great thing.  She enjoys staying busy and learning new skills so this will be a great way to spend some of her free time this summer."
There are many rewarding feelings that will come from a volunteer project this large.
"I'm looking forward to seeing that the stuff I'm going to be working on is going to good use," Ashley said. "I do a lot of this stuff for fun anyway and a lot of the items I make are given away, so I figured I'd give some of this stuff that I spend my time making to charity because there are people who really need this sort of thing and it feels good knowing that I could help them."
Although the project may take quite some time to do, there are several instances that even just a little bit of down time can mean progress towards her goal.
"This is something I can do literally all the time," Ashley said. "I can pick it up at school, at home or in the car. I can do a lot of stuff with it depending on how much time I have and it also provides an opportunity to get my friends together."
There are a few requirements for the rectangles to be made into a blanket. The yarn used must be machine washable and dryable and each section needs to be exactly the right size to make a uniform, neat-looking throw.
Several craft stores like Michaels sponsor Warm Up America drives where they'll collect the pre-knit donations that will be sent to the Warm Up America office in Carrollton, Texas to be sorted and donated.
"Knitting has a large impact on my life," Ashley said. " It's one of my biggest hobbies. I've got a bunch of blankets at home and I always make gifts for my family and friends for birthdays and holidays. I spend a lot of my time doing it because it truly makes me happy."
This summer will provide Ashley and her friends an opportunity to work together to create meaningful donations for charity. With the countdown from school becoming smaller every day, Ashley anticipates the beginning of her volunteer project.

About the Writer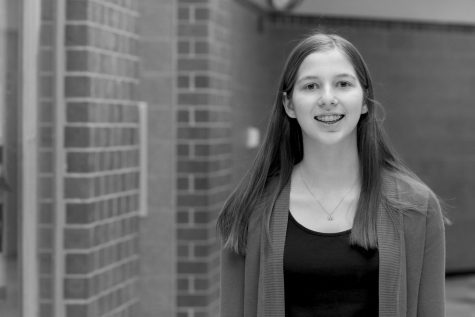 Olivia Edwards, Staff Writer
Olivia is a sophomore at Millard West and is starting her first year as a member of the CATalyst staff. She is thrilled to get the opportunity to write...