Girl's Soccer Captures Metro Tournament
The Wildcats remain undefeated half way thru the season
Hang on for a minute...we're trying to find some more stories you might like.
It was said to be redemption week for the varsity girl's soccer team.
A season ago, a first round embarrassment to Bellevue West ended their shot at a Metro title, as they were one of the front runners to claim the plaque and name as champions of the midseason tournament.
This year: mission accomplished.
On Monday April 8th, they claimed the championship with a 3-0 win over Omaha Marian.
"We were all super upset after being knocked out last year and we came into this week wanting redemption," senior captain Madelyn Augustine said. "Winning Metros was an amazing feeling and was a full team effort, it isn't our end goal though, so we still have some work to put in and big games to play."
The win marked their fourth in five days for the tournament, as they scored 23 goals in the first three games before the final.
So far the girl's overall record has been perfect. They now stand 9-0, while scoring 54 goals, and conceding a mere four. They sit at the top of both the Omaha World Herald and Lincoln Journal Star rankings, while picking up the 11th rank nationally by USA Today along with 10th in the Top Drawer Fab 50.
"Obviously it's nice to have the recognition, but nothing is a given at this point," Augustine said. "Nothing at this point in the season is a given though. Districts and State are the only times they really matter."
The Wildcats are battling back this season after a tough loss in the state semifinals a year ago. Millard North pulled together some late goals to advance by a score of 2-0 over Millard West. The team has now lost in three straight semifinals after a state title in 2015.
"We want to get as far as we can this year, we are hungry for it and have the motivation," junior captain Katie Stoneburner said. "None of us on this team have won a State Championship, so that's what we want."
After a quick 10-0 last Thursday, they showed up to Millard North in a faceoff of the first meeting of the season between the two, and the rematch from last way. With the score tied 2-2 in the second half, the Wildcats went to score four unanswered in a 6-2 win.
Saturday morning, the eye for goals continued, as they scored another seven on Papillion La Vista South to advance to Monday's final at Creighton's Morrison Stadium.
In the warm spring heat, the team took the pitch against Omaha Marian, with the Metro bragging rights up for grabs.
A breakthrough for the high flying Cats came with just under 10 minutes to play in the first half, when junior Maddie Lecuona bent in a corner to the far post, where it was headed in by a defender.
Just a few minutes later, Stoneburner, the leading scorer with 14 goals, capitalized on a free kick, and Millard West took a 2-0 lead into halftime.
The second half dragged along, and junior captain Reagan Raabe put the exclamation point on the game, as she scored another one for herself in the final minute to make the game 3-0.
The team is built well from front to back, with an entertaining and effective style of play.
Everything starts with a front line combination of senior Chaise Pfanstiel and Raabe. The pair of combined for 26 goals and nine assists with their quick play, as well as their ferocious pressing when without the ball.
Moving back to a midfield that features three Division 1 commits, a trio that holds Augustine, Stoneburner and junior Grace Ostergaard. Augustine provides cover for the defense, while providing a wide range of passing. The other pair push forward as very important pieces in the final third of the field, scoring and assisting on goals.
A strong defense pulls the team together, one that looked to maybe be a weakness at the start of the season. Seniors Riley James and Alexis Naujokaitis and junior Riley Atkinson compose the back three, while junior Gabby Felker plays in net. Felker has made 25 saves so far this year.
A pair of wingers cap the team off. Senior Jaiden Beecher and junior Morgan Rhodes put in hard work on the outsides, also contributing in the attack, with five goals and assists.
"Our attack and midfielders are the strongest point in the team because we can all score and dish out assists," Stoneburner said. "The defense has really stepped up though."
The girl's soccer team will put their undefeated 9-0 record to the test, when they travel to Omaha Westside on Saturday, April 13th.

About the Contributor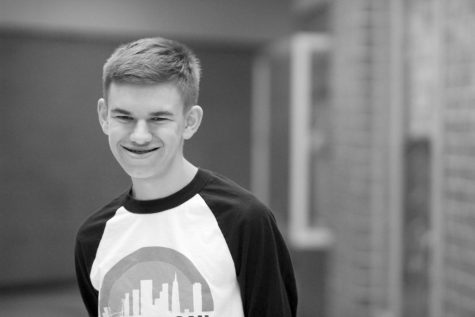 Nathan Thomas, Striv Executive Producer
Nate is in his second year working on the Catalyst Staff. He enjoy sports, and loves to broadcast and write about them. During his free time, he likes...