Shooting for the Stars
Former student lands internship at NASA
Hang on for a minute...we're trying to find some more stories you might like.
Less than a year after his graduation from Millard West, former student Dawson Beutler has already made a big step into his professional career as he has secured an internship with NASA this summer.
Although Beutler is now studying computer science at the prestigious California Institute of Technology, he's shown signs of a bright future from an early age as he applied himself in high school to prepare himself for his future at the university and as a NASA employee.
At Millard West he was involved in baseball, Math Team, Economics team and Student Council. By the end of his high school carrier, Beutler was part of Lincoln Journal-Star Academic All-State, NSAA Athletic Honor Roll, Omaha World-Herald All-State Academic First Team, a Greater Omaha Sports Committee Scholar-Athlete, an Outstanding Scholar-Athlete-Citizen Runner-up for American Legion Post #1, in National Honor Society, a National Merit Finalist, an AP Scholar, a Nebraska EconChallenge individual and team champion, as well as achieved a perfect score on his ACT. His hard work in Millard West Baseball also gave him the opportunity to also play for Caltech.
Even before high school, his mom, Xiaoli Beutler, has always known her son would be a great student and person through his work ethic and creativeness.
"Even when he was young, his dad and I would never have to tell him to do his homework because he would always do it himself," Xiaoli Beutler said. "He was very good at building with Legos. He would finish these huge structures in just a couple of hours even if he was too young for the lego set according to the instructions."
Beutler owes a lot to his school's connections and resources. He found this opportunity to work with NASA through his school's SURF Program (Summer Undergraduate Research Fellowships.) Since the university operates the Jet Propulsion laboratory with NASA, the door was wide open for him to apply to the internship.   
While applying for the position, Beutler had to have to write a research proposal to outline how he will use his time in the internship and what his research will entail. He also had to have experience with special software such as ArcGIS mapping software and  that will help him carry out his research. After an interview and a short tour of the facilities, Beutler was informed he had gotten the job.
"In 2020, NASA will be sending another curiosity-like rover to Mars," Beutler said. "My job is to look through satellite imagery of Mars' surface in order to ensure the safety potential landing sites and also create a landing site map which the rover's computer will use to land. I'm still very excited, especially since this project will directly impact the 2020 mission."
According to NASA, Beutler will be measuring rocks on the surface of Mars and understanding their context. This will include, analyzing rocks visible in high-resolution HiRISE images and quantifying their size-frequency distribution to better understand landing safety. He will also be looking at craters on Mars to investigate rock distributions in their ejecta, how they change with time and their morphologic state as well as the geomorphology as a clue to the subsurface geology.

With so much success for Beutler, the Millard West teachers and administration couldn't be prouder of their former student.  
"It's what you work for," principal Greg Tiemann said. "There's nothing more exciting than to hear of success on all kinds of levels from former students because we feel like we've done our job of preparing students for the future."
Living in the present, Beutler is not yet sure of his goals for the future after this summer. Since he is still just a freshman in college, it all still depends on how this summer goes and the many more opportunities to come.

About the Writer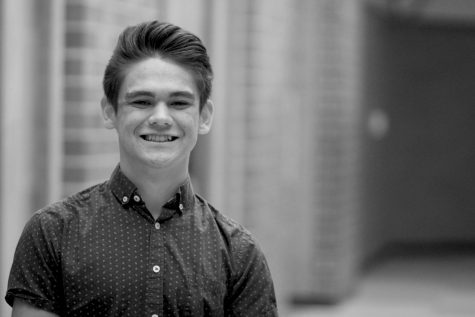 Gabe Paredes, Entertainment Editor
A Venezuela native, Gabe is fluent in both English and Spanish. Gabe's entrance into the Journalism scene was rare and sudden, but he has enjoyed every...