All in for Unified
Pep rally held to honor unified clubs and sports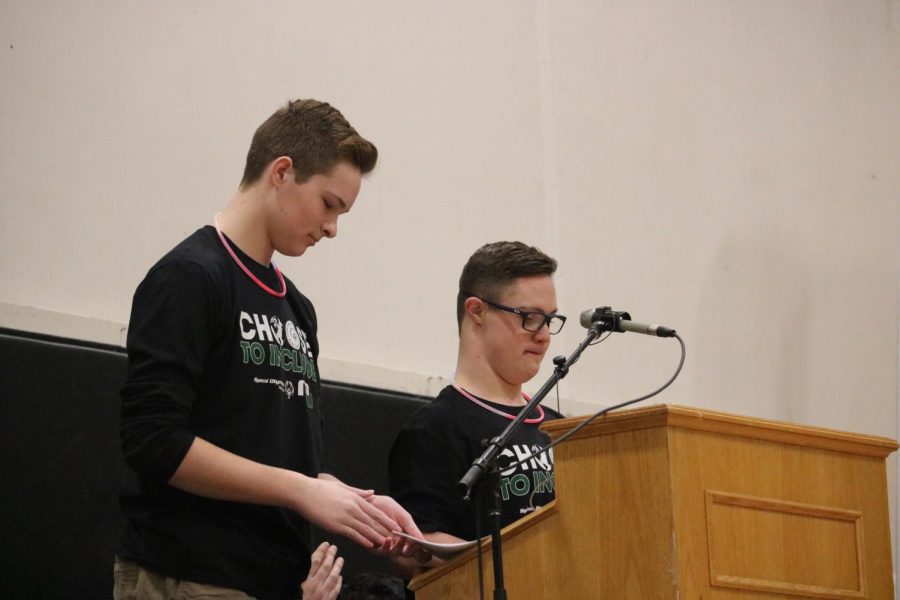 On March 8th, 2019, students of Millard West flooded Wildcat 1 for a pep rally they had never experienced before. Students were in for a surprise with emcee Thor Tripp, guest speaker and NFL player Harrison Phillips and a flash mob of students and teachers.
This pep rally was held because Millard West had been chosen as a top 35 Unified School by ESPN Special Olympics. A banner signifying this honor was to be presented and hung in the gym in a big event that helped further spread the Unified message.
Getting this honor was something the Unified clubs and sports had been working towards for about six years. After reaching qualities of a unified school, special needs teachers, such as Bret Siepker, Jan Lehms, Danielle Anderson, Sara Weise-Johnson and more submitted an application in hopes of being recognized as one of the Unified schools. Siepker had played a big role in helping this happen for the school along with the other teachers, unified coaches and students.
"We have so many programs, clubs, activities and events that promote inclusion," Siepker said. "I feel like we are on the forefront of what a Unified Champion School should look like. It meant an extreme amount to us to receive this award. This is something that we have been working towards for over six years. It took a lot of hard work, planning and support. Everyone involved should feel very proud about earning this award."
Schools were selected by the NSAA and the Special Olympics to be honored as a Unified Champion School based on their participation in Unified sports and activities in the school. The schools chosen had to fit the 10 standards of high schools set by Special Olympics organization. Among these were having a Special Olympics trained coach and having two seasons of unified sports throughout the year. Principal Dr. Greg Tiemann, was one of the first to know that Millard West had been selected and knew that West was deserving of it. Seeing throughout the school everyday a representation of inclusivity among all.
"As a principal, I was extremely proud for our school to be recognized," Tiemann said. "It felt like winning a state championship. The pep rally just gave me a lot of pride for our school and I know it was the biggest moment for the students in the Unified program. This was definitely their pep rally and their moment."
The banner presentation featured speeches by many students and teachers. A speech from alumni Harrison Phillips and a flash mob by the ACP students and various teachers around the school entertained all in attendance. They all wanted to further drive home the message of being unified and being inclusive with everyone no matter their abilities. One featured speaker, sophomore Hogan Wright, was chosen to speak along with his partner, junior Joey Drwal, speaking with pride of the school after winning the award.
"At first I was pretty nervous speaking in front of the school, but I quickly got used to it and if felt good," Wright said. "This meant pretty much everything to me because I've been involved in unified sports since middle school and it was great to see everyone's work pay off."
Moving forward, students and teachers alike hope to see even more people get involved with these programs. ACP advocates will continue to push a theme throughout the school of inclusivity going right along with West's #BeKind campaign, wanting to make a difference with representation of special needs athletes and how they are treated.
About the Writer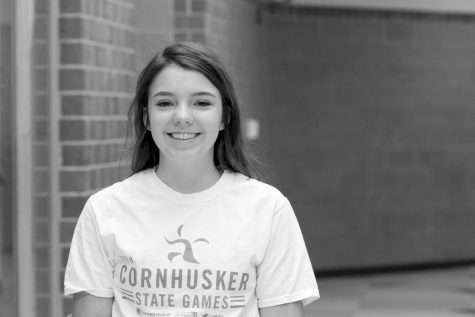 Savannah Clites, Staff Writer
Savannah is a sophomore in her first year of Advanced Journalism. Savannah enjoys writing feature stories and the photography aspect of journalism. Aside...