Random Acts of Kindness Week
Students and staff spend a little more time spreading kindness
Schools all over Omaha are participating in the #BeKind campaign to spread kindness over the area. Millard West has done many things to spread the word, including dedicating a week for random acts of kindness. This took place Feb. 18-22.
Throughout the week students were able to nominate another student or staff member for a $1,000 scholarship or grant from First National Bank. Staff and students could nominate anyone for their kindness actions by using the #Kindnessisfree and #BeKind. Mark Klein helped his students get involved with this even.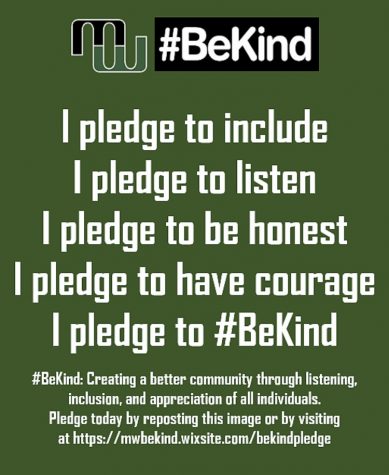 "Being Kind is easy, it's not difficult, thus there is no reason one shouldn't be kind," Klein said. "I spread kindness by making sure that students they are in my life."
The week started off with the annual Staff Breakfast on President's Day. Students had the day off while teachers were hard at work. Student Council helped decorate the cafeteria to the theme "Around the World." The tables were decorated with things such as blow up props and confetti. Students also helped prepare and serve the food to the teachers.
On Thursday, Feb. 21, in Extended Quad QT, students had the opportunity to watch a video about kindness and what it means. They could also pledge to the #BeKind campaign at a website that Student Council had created. The pledge stated that you promise to include, listen, be honest, to have courage and to #BeKind. Student Council had also posted it on their Twitter telling others to repost and tag it with the #BeKind to spread the word as much as possible.
Millard West also decided to have a photo booth in the Commons on Friday. Students and staff can wear any #BeKind gear or First National Bank green and go to the commons to take pictures. Anyone who takes a picture gets a Kindness is Free pin as well as, a chance to win a prize. All you have to do is take a picture with the pin and you get entered into the sweepstakes.
Throughout the week Student Council had been writing kind messages on sticky notes. They went from classroom to classroom sticking them on the heads of chairs. Students saw them as they pulled out their chairs and began class. It gave them a nice boost as they started the day.
"Planning was really easy," Klein said. "The Principal Advisory Board did all of the work, and Student Council helped a little by getting some of the information out to students and staff."
The #BeKind campaign has helped improve schools all over Omaha. This week will help spread the word and get students to understand that a simple act of kindness is free.