Wildcats Take To The Mat
Wildcat Wrestling brings home hardware from State Tournament
From Thurs., Feb. 14th through Sunday the 17th, four Millard West wrestlers competed in the NSAA State Wrestling Tournament at CHI Health Center in Omaha.
Three of the athletes placed and took home medals. With a 52.5 team score, Millard West placed 12th out of 32 Class A schools.
"To be able to watch these kids go down to State and compete is a culmination of work over their wrestling career," head wrestling coach Scott Townsley said. "It was an emotional weekend because there is only one winner at each weight.  15 other wrestlers are going home with less than they wanted."
Junior Ethan Valencia placed 6th in the Class A 152 weight after losing to Alex Irizarry of Papillion LaVista South.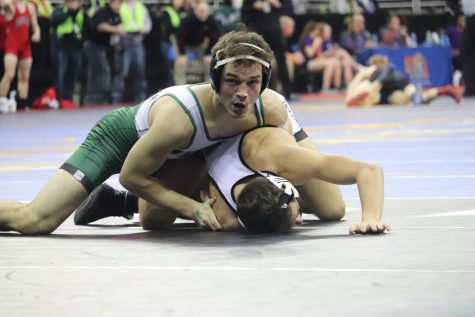 "I worked very hard this year and it's great to see my efforts are paying off," Valencia said. "The goal for next year is to work on becoming a State champion and make my team number one."
Senior Levi May took home the title of State Runner-Up for the Class A 145 weight.
"Going into the matches I just tried to clear my mind and tried not to think about anything," May said. "It doesn't matter if the opponent is good or bad, that just really helps me focus."
At the top of the podium for the Class A 126 weight division was Senior Camden Russell. After being named State Runner-Up last year, Russell's focus going into his final season was on one thing; becoming a State champion.
"The goal going into the season was to be State Champ," Russell said. "That's been my plan pretty much my whole life…It feels like all my work has paid off. At least for now."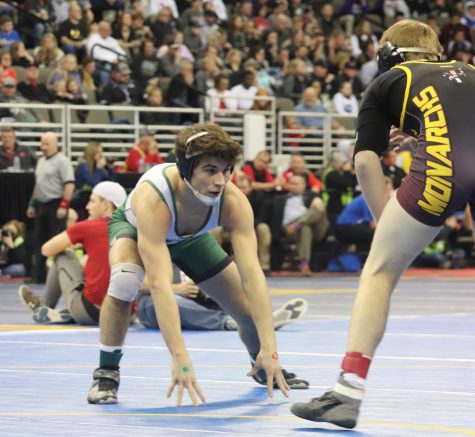 Starting last March the wrestling team began preparing for the season. This included lifting weights, going to off-season tournaments and camps and participating in off-season practices. During the season they focused on their effort and work habits.
To prepare for State, they watched a film of their first two opponents at the tournament and then put together a game plan.  Coaches then meet with the wrestlers individually and make sure everybody is on the same page and ready to face each opponent.
"The goals at Millard West is always the same for every sport," Townsley said. "We want to put our kids in the best possible position to compete for State titles on a team and individual level. The coaches try and provide as many opportunities as we can for kids to get better in the offseason. During the season, we are setting up practices that allow the kids to get into the best shape that hey possibly can while also fine-tuning their technique to prepare them for every match."
Though preparation for the upcoming season takes place year round, Wildcat Wrestling will begin practicing for the 2019-2020 season in March.