Thrift. Flip. Sell.
Clothing accounts are trending on Instagram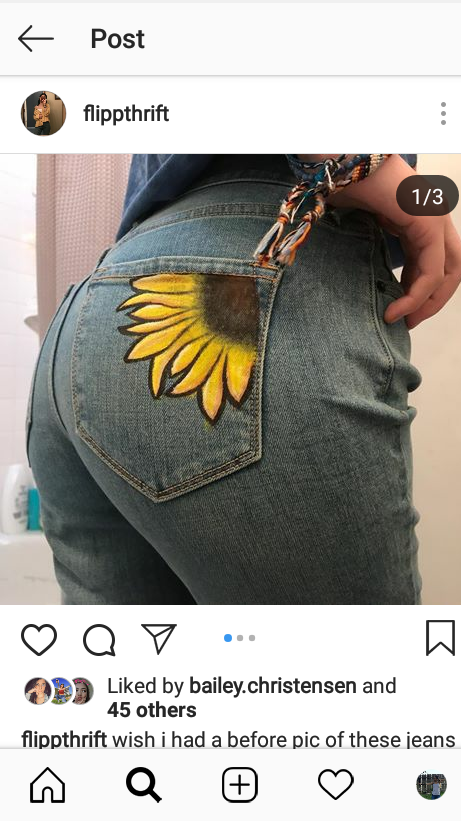 Thrifting is the act of shopping at a thrift store, flea market, garage sale or a charitable organization, usually with the intent of finding unique pieces for a steal of a price.  
In light of this growing trend, many students have taken to Instagram to sell and share their latest thrift finds.
Senior McKenna Doyle and Millard West alumni Valerie Aman own @recycledthreads_.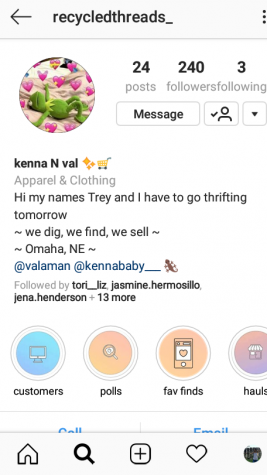 Doyle and Aman use Recycledthreads_ to share their thrift store finds with their like-minded followers who appreciate thrifting as much as they do. The thrifty duo have had their account since October 2018.
"The account has done great since we started it," Recycledthreads_ said. "People seem to love our stuff."
Doyle and Aman get comments or direct messages (dms) almost every day from people interested in the items they have on their page, but they get more interest when they put a new piece up for sale.
"Generally our clothes are priced anywhere from $5 to $20," Recycledthreads_ said. "When there is a ton of interest on an item we do bidding wars. We have gone up to thirty dollars on a single item with this method."
Occasionally Doyle and Aman will pull out the scissors and sewing machine to alter their items depending on what they think would look good.
Recycledthreads_ has gained 239 followers since the start of the page.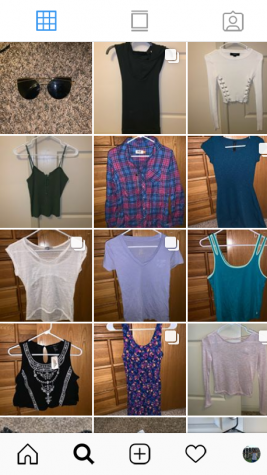 Another account is @niftythrifty123 which is run by juniors Sophia Krzyanowski, Josie Schreiner and Jade McClain and sophomore Lily Dame.
These girls use Niftythrifty123 to sell clothes already in their closets.
"We all just have a lot of clothes we don't wear," Niftythrifty123 said. "We thought we'd be better off to sell the clothes to other people who could get good use out of the clothes. An added bonus is that it's a great way to make money."
The girls of Niftythrifty123 don't alter their clothes in any way. They go through their closets and get rid of clothes they no longer wear. On their page pants are $10 each and shirts range form $1-$10.
"If it's something we've never worn before or maybe just once then the price tends to be a little higher," Niftythrifty123 said.
They have had their page for about five months and currently have 112 followers on Instagram.
Senior Anicca Hill operates Flippthrift. Hill has had her account for almost two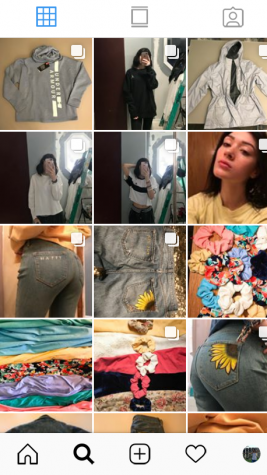 months. In those short two months she has gained 289 followers.
"I decided to make an account because I would always have people ask me where I got my clothes," Hill said. "When I would say I thrifted them or made them, people would tell me they wanted them. I figured making an account would make the clothes more accessible to people."
Whenever Hill posts on Flippthrift she get dms from people interested in her clothes.
"I was actually surprised when I first started posting thrifted clothes because the items would be sold within an hour," Hill said.
Not only does Hill flip the clothes she buys but she will also flip clothes other people bring her.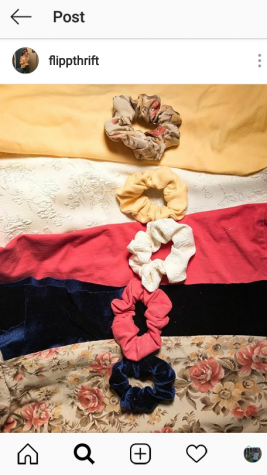 The pricing for Hill's items depend on what is being purchased. Thrifted clothes are anywhere from $3-$10. Her handmade scrunchies are either one for $2 or three for $5. Hill will also paint or embroider jackets and jean pockets. The pricing for jackets and pockets depends on what people want, but on average the price is around $5-$15.
Thrifting is a great way for teens to save and make  money and revamp their wardrobe. Make sure to check out Doyle and Aman's @recycledthreads_, Krzyzanowski, Schreiner, McClain and Dame's @niftythrifty123 and Hill's @flippthrift on Instagram.
About the Contributor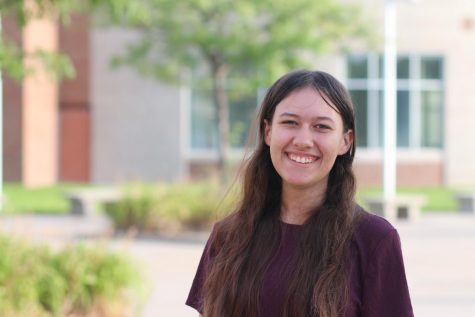 Mackenzie Gonzales, Cartoonist
Mackenzie is a senior entering her third year on the CATalyst staff. Her favorite stores to write are Entertainment and Features. She loves photography...