Simply the best
Traditional philippine restaurant opens in Omaha, Neb.
Hang on for a minute...we're trying to find some more stories you might like.
Masarap Philippine Cuisine is a recently opened restaurant that opened on November 13th, 2018.
The restaurant, located on 168th Street in Omaha, Neb. offer countless options of genuine Philippine meals, drinks and desserts. They sell Philippine candy at the counter for 50 cents and offer free water if the drinks are not what you prefer. The menus, which can be found at the counter, come in both English and Filipino just in case you are native to the language.
The restaurant's name, Masarap, means delicious, which perfectly describes their food. Masarap has a wide range of meals you can choose from with chicken, pork and beef. Some of their options are Corned Beef Silog, a breakfast option that includes corned beef with onions, fried rice and fried eggs. Chicken Tinola is another option that is served as a soup for lunch or dinner. This is a chicken soup filled with green papaya chili pepper leaves and lots of seasoning.
They are especially known for their Lumpias or their egg rolls. Each meal comes with at least one egg roll, or you can order a side of egg rolls and get more than one.
When I went to the restaurant, it wasn't too busy. The place was a cute, it was a little restaurant that was on the corner of building. The restaurant had about six tables, two of them being booths. On the side of their restaurant was a line of silverware, drinks and take home boxes which is nice, so you don't have to bother the server for it.
When you go to order your meal, the main server I encountered was quite friendly. When she found out I had never had or even been to a Philippine restaurant, she was more than happy to help me pick out a meal. The most popular food they had was the Adobo Chicken. I ended up getting it with a Ube Ice Cream and it took about 15 minutes to make and only cost me $13.13.
When the food came, I was surprised at how much food I was getting. The first thing to come out was rice noodles with vegetables in it and their famous egg rolls. I ate the egg roll in a matter of minutes. It was fried to a crispy shell, and was positively delicious. The rice noodles were acceptable, but were somewhat dry. About eight minutes after I got the rice noodles, they came out with a plate full of chicken and rice.
The chicken was soaked in a delicious, salty sauce that was brown with little black balls in it. The sauce they used was vinegar and soy sauce stirred together than soaked in a marinade. When I picked up the chicken, there was a puddle of sauce under it to leave it soaking so it would have more of a flavor with garlic and black peppercorn. What I found most interesting about my chicken was it still had bones in it. Luckily, I figured that out before I put it in my mouth. The rice was just regular white rice, which I added the extra sauce to.
Ube Ice Cream is a purple ice cream that is a favorite in the Philippine culture. To describe the taste of it was quite different and difficult. I could not tell the know the taste of it, to me it was a foreign taste, but it was something like vanilla, but with a twist of flavor. It had a cherry on top to add cute decoration.
The meal was giant in size and I was not able to finish it, so I took it home with me and let my family try it, and they loved it.
The next time I go, I plan on getting egg rolls and the meal Nilaga. Nilaga is a soup that contains boiled meat, potatoes and cabbage. I would also like to try one of the drinks, such as Mango Juice. I would recommend this place to anyone who is willing to go out of their comfort zone and try a new style of food.
3 stars

About the Writer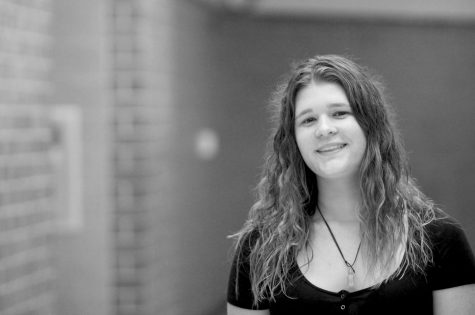 Annalise Smalley, Staff Writer
Annalise is a sophomore and is in her first year of Advanced Journalism. She enjoys writing feature stories, making broadcasts and taking photos. She runs...