Student Athlete Exceeding the Norm
Volleyball player putting in work inside and out of the classroom
Hang on for a minute...we're trying to find some more stories you might like.
There are over 1000 student athletes at Millard West, all of which are faced with the obstacle of juggling school work with their athletics, and playing multiple sports in high school makes this task even more of a struggle. Sophomore Elise Gilroy is a two sport athlete who exceeds the expectation.
Ever since third grade, volleyball has been Gilroy's passion. Cheering on the Wildcats as a kid, she always dreamed of being on the high school volleyball team. This dream quickly became a reality when she tried out for Millard West Volleyball Freshman year. Gilroy landed a spot on the varsity team, being the only freshman to at the time.
"I was fortunate to have Elise as an elementary student in PE when she attended Rohwer Elementary," volleyball head coach Joe Wessel said. "You could see at an early age that Elise was gifted with athleticism. She took it to the next level by showing commitment to achieving her goals and helping create a winning culture at Millard West."
Gilroy spends most of her time outside of school playing volleyball. Her weekdays generally consist of two hour after school practices as well as two to three matches a week. As her high school season wraps up, she quickly jumps into tournaments every weekend and lengthy practices, all which are involved in club volleyball league at Volleyball Club Nebraska.
Not only does Gilroy show her athletic ability in volleyball, she is also involved in track. Gilroy decided to give track a try in 7th grade and quickly came to realize a natural talent. She is now part of the varsity girls track team as a mid-distance runner.
Gilroy has made many achievements after her first year running track, including breaking many of her personal records throughout the season. She was part of the State 4×800 relay team and captured silver, as well as breaking the school record of 9: 21.579.
With all of the time and commitment involved in her sports, Gilroy gets little, if any, downtime. While students struggle balancing their sports with school work, this is not the case for Gilroy.
"It's hard for me to find time for myself, but I know it will all eventually pay off," Gilroy said.
In addition to the hard work put into sports, Gilroy also shows huge potential in her academics. She has a 4.25 GPA, and she continues to take Advanced Placement classes in attempt to make that even higher.
Social Studies teacher Tim Royers describes Gilroy as being an exceptional student, both hard working and incredibly intellectual. He also states that she was constantly able to process complex historical topics at a really high level.
"I see incredible potential in Elise, and she could be successful in any number of careers," Royers said. "She is incredibly talented across the board, inside the classroom and out, yet she remains incredibly down to earth and gracious."
Aside from high GPA, Gilroy took the ACT for her freshman year and scored a 35. Although this score would accept her into multiple schools, she plans on taking the ACT again with all the juniors in attempt to get a 36. While Sophomores took the Pre ACT, Gilroy took the PSAT and scored a 1400.
"I felt really proud of Elise after I found out she got a 35 because I know she worked for it," friend Erica Michel said "I wasn't really surprised because she's very smart and when she really wants to do something, she can do it."
Gilroy has put in a lot of work and time that pays off in both her athletics and academics. She has shown great potential in her first two high school years, and will continue to be a role model for others as her years go by.  

About the Writer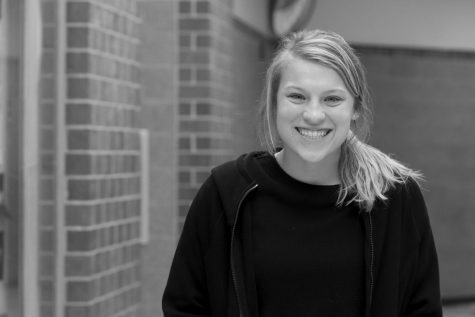 Ashley Hedrick, Staff Writer
Ashley is a sophomore and this is her first year in Advanced Journalism. Ashley enjoys writing feature stories as well as filming and editing videos....