A Small Contribution has her Changing the World
Senior helps better her community one step at a time
Hang on for a minute...we're trying to find some more stories you might like.
Senior Rebekah Hitz has a kind heart that cares about others. She lends a helpful hand in her community.
She is involved in countless activities in and out of school. She is involved in West Friends, Education Academy, Nebraska educators rising and a volunteer at Lakeside. Hitz is able to juggle all of the activities she participates in as well as keeping up with the amount of school work she recieves on a daily basis.
"Bekka is a very caring person," senior Natalie Holman said. "She always looks out for others and she rarely thinks of herself. She is just super nice and outgoing to everyone around her".
Hitz enjoys everything she does because she has been able to make new friends when she participates her activities.
"I am a co-leader of West friends, a coordinator for the Unlimited Possibilities dance as well as a special musicians volunteer," iItz said. "I am in the Unified Basketball, track and bowling competitions. As well as being in the unified games I am also in the Education Academy and I am the president of Nebraska Educators Rising. I am also a volunteer at CHI health Lakeside teen lead."
Rebekah Hitz has been accepted into multiple colleges that she is able to choose from when she graduates high school. She is wanting to choose the best school for her in hope that it will help her achieve her goals.
"I want to study secondary special education,"Hitz said. "I'm not sure where yet. I have it narrowed down to six schools, but I'm a very indecisive person so I probably won't know where I want to go until May".
Hitz is motivated by her future in hope that all of the activities that she is involved in will help her when throughout her life.
"Being a volunteer at Lakeside has given me the opportunity to learn to socialize with anybody and everybody also I learned how to transfer a call which took me forever to learn," Hitz said. "My work has made me learn that children are amazing and wonderful and can make you want to bang your head against the wall at the same time, but that it's all worth it because they are the future. I will carry this mindset with me into teaching. Planning the Unlimited Possibilities dances have made me way more responsible which I will definitely need in college and as a teacher. Special Musicians has made me look outside of my comfort zone and try something new".
The unified games she participates in has opened her eyes to understanding what kind of teacher she wants to be. She has become close to some of the students she helps in West Friends.
"The activities that I am apart of have helped me because they have given me insight on what I want to do," Hitz said. "For instance, West Friends and unified sports is what made me realize that I wanted to teach special education. I always knew that I wanted to become a teacher but West Friends and unified bowling sports pushed me into the special education direction".
Being in Academy has also helped her realize what she wants to do as a career just like being involved in West Friends has helped her.
"Education academy has reinforced my dreams of becoming a teacher because I am surrounded by people who have the same passion as me, and are my best friends. It also led me to applying for the Nebraska educators rising state officer position, which I got and it led me to become the president of Nebraska educators rising. Ed rising has given me so many leadership and communication skills that I will use in college and in my career".
She tries to always be positive and others have noticed how hard she works.
"I think that Bekka has a really kind heart and it shows throughout all the things does here at Millard West," Holman said.
She cares about her community and lends a helpful hand wherever it is needed. She is involved in a wide variety of activities, giving to other Millard West students without expecting anything in return.

About the Writer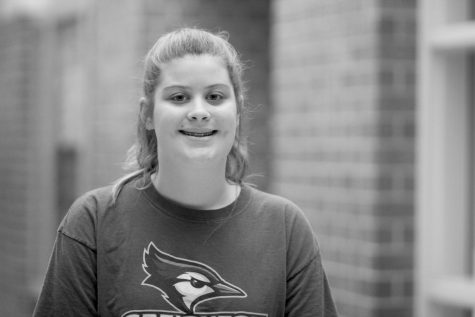 Genna Platte, Staff Writer
Genna is a senior and this is her first year in Advanced Journalism. She is graduating in December and going to school to major in Journalism. She enjoys...