Managing mental health
New psychologist works her way to high school
Hang on for a minute...we're trying to find some more stories you might like.
Depression, uneasiness in life and stress at school are typical topics discussed at school in school psychologist Kelli McWilliams office. McWilliams, who replaced retiring psychologist Liz Carey, offers help for teens with stress each day.
From the start, McWilliams knew she wanted a career working with children. At first she wanted to become a teacher, but in high school that all changed. After taking a Psychology class, she seemed to have a profound devotion for this subject. She wanted to help people with their problems in life.
"I helped out the counselors with giving the suicide and depression talk and calling kids out to talk with them about what going on in their lives," McWilliams said. "Many kids struggle with these thoughts, and I just want to help them."
After graduating from high school, she went to the University of Kansas City, and got her Bachelor's Degree. Well-informed that she wanted to become a psychologist, McWilliams went through three years of graduate school, then did a one year Internship.
When she was at college, she was training to be a clinical psychologist. She wouldn't be working in a school, but she would still be working with children. Before she fully determined this for her career, she discovered that schools took in psychologists. She was thrilled and decide to go in this direction.
"I love being able to help students," McWilliams said. "Many times, a student is frustrated and they don't know why it's so hard for them to learn, while for others it's so easy. That's when I come in and help them. We make up a plan together, and decided what we should do to make it more enjoyable for them."
During McWilliams internship, she experienced heartbreaking environments and new adventures. She worked at a school that had kids from neighborhoods with different socioeconomic statuses. Many of the students that came to the school came from homes where household violence and being neglected happened. It was a new environment for her, one where she learned lessons that would stick with her forever.
"It was all a very eye-opening experience," McWilliams said. "It really puts in a lot of perspective what some kids go through on a daily basis. Some kids can come to school without eating breakfast or seeing violence happen in their own home. It's all hard to cope with."
After working three years in Kansas City and Topeka, Kansas, she decided to move to Omaha with her husband. She found a job in Millard where she spent her time at Horizon, Morton Elementary and Hitchcock Elementary before coming to Millard West. McWilliams strives to help kids with their stress.
She has gone above and beyond at Millard West," special ed teacher Taylor Burr said. We have all benefited from that, the kids benefit from that. She is always the first to reach out and is always someone you talk to and trust."
From Nov. 12 to the 16th, it is known as Nebraska Phycologists Week. It was first created 10 years ago in Australia, known as APS, Australian Psychology Society. McWilliams has spoken in front of some of the students at West about the career and about how they can help prevent suicide and depression for themselves and for others.  
McWilliams hopes to promote the career school psychology. She wants the profession to be known more to other young adults. There's a shortage of school psychologists, not only in Nebraska, but nationwide. Many people whose goal is to become a psychologist lose hope when they don't do something right, or see the amount of years it takes. She hopes that they won't give up, and that they keep trying to pursue the career and help students all over.

About the Writer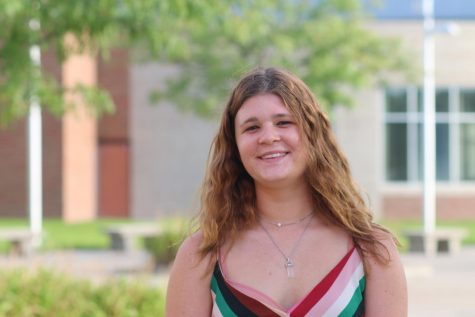 Annalise Smalley, Staff Reporter
Annalise is a junior this year, and is in her second year of Advanced Journalism. She runs in her free time and loves to cook and bake. Annalise has two...