Changing the future
Digging into the history of Unified Bowling and how it all started
Hang on for a minute...we're trying to find some more stories you might like.
As winter approaches, Unified Bowling kicks off their third season. For many Millard West students participating, this is their favorite time of the year. Being ranked in the top 30 teams nationwide, sparks a new level of determination to keep improving their skills and working harder.
It all started three years ago when the Millard School District decided it was time to make a change. Unified bowling is a joint venture between NSAA and Special Olympics that offers athletes with intellectual disabilities the opportunity to compete against other schools. The first year the proposal was thrown out there, yet not a lot was said about it due to there not being enough knowledge and participation on this program.  They were not really sure if it was going to continue. As the years past, more and more students joined and now there are many students, of all grades, that want to be apart of the program and compete at the meets.
"My role is being a bowler and competing at the meets ," senior buddy Ashton Johnston said. "But more importantly being welcoming and supportive to the other kids as they are trying something new."
Practices start right after school and goes till 5 p.m. In the past years they have practiced at Sempeck, however this year they started practicing at Western Bowl. For head coach Jan Lehms, this has been quite a change. In past years she has been able to teach on and off the lanes which means she could teach multiple students at once. Western Bowl has less open space and doesn't offer that option so she has had to find ways to fit everyone in the lanes. Throughout the practices and meets Lehms does her best to make everything run smoothly while the Students have fun.
"I love being part of the inclusion movement," Lehms said. "I really enjoy watching the interaction between athletes and partners, and watching the kids grow each year."
Lehms has been with this program since the beginning. She is the head coach and she is always open to giving tips and advice and helps the kids with learning the game. Since it is only a six week season, the top things that she teaches on are approach and release. She takes pride in helping these athletes meet their full potential.
Millard West has three meets this season. The meets take place on Thursday's, two at Western bowl and one at Ralston. This year the team will compete against Millard North, Millard South, and will participate in the Millard Cup Challenge where they will play multiple schools. During the meets there are two teams. The first one is the competitive team. These members compete against other schools and are bowling to win. The second team is the non-competitive team. These members are there to have fun while bowling with the other schools.
"My favorite part is getting to bowl with my partner and my friends," freshman bowler Will Stoneburner said. "They teach us how to bowl and help us with anything we need."
Choosing the teams is a big process. This year 85 students signed up and 62 students have stuck with it. Each individual team is made up of two athletes (ACP kids) and three partners (Millard West student helpers). Millard West only has 11 athletes and the rest are buddies. Over the years students have been cut, from the team but this year that wasn't the case.
"I was going to have tryouts and have the kids answer questions for me," Lehms said. "But in the end I found it was very hard to cut kids who wanted to be part of such a great program."
Not only do the athletes get to learn from Lehms but they also have their buddies. These students are there for whatever the athletes need. Whether it's a tip on bowling or just to talk too. They are cheering them on every meet and supporting every bowler.
"My favorite part is being around the kids," Johnston said. "They get so excited about the little stuff and that's fun to see, it always put me in the best moods."
For many of the Millard West partners, helping these athletes has left a big imprint on their hearts.
"My favorite part would be seeing the smile on my partners face," junior Sarah Fueker said. "It's just so heartwarming to see people come together to make a team and have fun."
Millard West continues to make history and offer every student the chance to meet their full potential and have fun while doing it.

About the Writer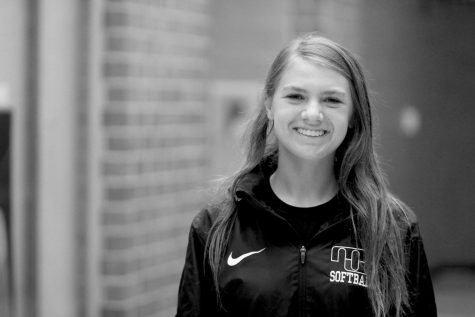 Delaney Richardson, Staff Writer
Delaney is a sophomore and this is her first year in Advanced Journalism. She enjoys writing sports stories and feature stories. In her spare time Delaney...