Interception King
Senior breaks record for most interceptions in a single season
Hang on for a minute...we're trying to find some more stories you might like.
The floodlights on, and beaming down on Westside Stadium on a cool Friday night in November. Both Millard West and Westside were fighting for a shot in the NSAA State Semifinals, locked at seven points a piece.
Senior cornerback Gabriel Anderson sat back in his usual coverage in the second quarter, when he saw where the quarterback was looking. He tracked back and to his right, when the throw came, to the receiver located a few yards in front of him. The ball was just too high for that same receiver, but Anderson was in the perfect position, and he was rewarded.
The ball fell nicely into his hands, and he was able to return it for about 15 yards. This was not just ordinary turnover for the team. This was the school record Anderson just broke for most interceptions in a season.
"I had no idea that I was close to the record," Anderson said. "Coach (Chad) Young just said before the final regular season game that the last time we had someone get eight interceptions in a season, we won the State Championship."
Anderson tallied nine interceptions in 12 games this season. He also had over 40 tackles and three fumble recoveries, including one for a touchdown. His success for the team this season has not come easy though.
During his freshman year, Anderson was stuck as a backup corner on the freshman team. He was not expecting to get much play time, but an injury to the starter allowed him to come in. Since then, Anderson has tried to play his part in helping the team, which included playing a bit of special teams last season, but most of it came on the scout team.
"So I played a lot on JV last season," Anderson said. "But the main thing was playing scout team, and always help the varsity team the best I could."
Going through this summer and conditioning, he knew he would finally have his shot playing for this first team on Friday nights. His position, however, was undecided.
"I had the idea that I would be starting this season," Anderson said. "I just thought it would be at safety, but I found out it would be corner, which is the position I have always wanted to play."
Anderson started the season strongly, as he hauled in four interceptions in his first four games, including two against Omaha North in Week 3. After a only one pick in three games in the middle of the season, he has picked back his spectacular form, and has now brought in four in another four.
"Gabe had a nice season on JV a year ago, and a nice summer so we started to know he would be a good player," Young said. "But when you get nine in a season like he did, you start thinking that he is doing something right, and is a great player."
His teammates in the secondary this season have also noticed his extraordinary play, and know he has been great all season.
"Gabe is a really good player, and he is my partner in crime," senior cornerback Matthew Detlefsen said. "Whenever we need a play on defense, or the offense needs the ball back, he is the one that makes that play."
With Anderson's play, you might think he would have a bright future ahead of him, but he decided not to continue his football career after this season, even with some colleges interested in him.
Anderson's and the rest of the Millard West football team's season ended on Nov. 9 at the hands of Omaha Burke by a score of 35-28.

About the Writer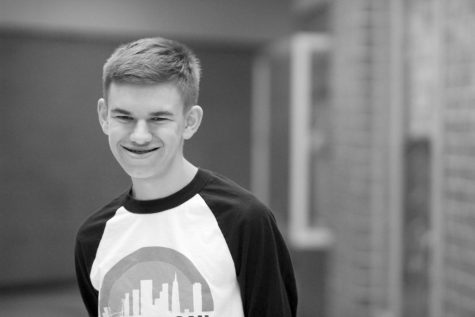 Nathan Thomas, Striv Executive Producer
Nate is in his second year working on the Catalyst Staff. He enjoy sports, and loves to broadcast and write about them. During his free time, he likes...