Skinny Bones
A new take on the traditional pumpkin patch
Hang on for a minute...we're trying to find some more stories you might like.
As the sun sets on Skinny Bones Pumpkin Patch, one can immediately feel a sudden change in the atmosphere. Some of their attractions become a little more ominous, while the total darkness adds some excitement into the already thrilling attractions. For the measly price of $13.95, one is taken through a spectrum of emotions ranging from absolutely terrified to completely overjoyed.
Located off of Highway 133 stits this quaint, but lively, pumpkin patch. Founded by the Bledsoe family, it brings a whole new meaning to this
fall favorite activity. For example, in order to reach the actual pumpkin patch, one only needs to hop on the Hayrack Ride and take the five minute journey to get there. It's secluded from the other attractions and lets visitors enjoy the vast fields as well as the vibrant colors of the setting sun in the evening.
"My husband Jeff Bledsoe and myself started Skinny Bones Pumpkin Patch in 2008," Maria Bledsoe said. "We purchased our farm and he immediately had the vision that this was going to be a pumpkin patch someday. We tested the market for a couple of years using our cute, small children to help sell our pumpkins roadside in front of our property. These sold very fast and we knew we had to take my husband's dream and vision to the next level."
However, don't be fooled by its size. This pumpkin patch delivers with each attraction being hand built and having some sort of significance to the Bledsoe family. They offer a total of 17 attractions which is significantly smaller than Valas grand total of 62. What I think is truly incredible is that it doesn't take much to create a fun and interactive attraction. A good example of this is the Rolling Racers. It's comprised of three, large skinny tubes attached to a track. One simply climbs inside and starts to roll. It is quite a sight to see small children racing each other in these massive tubes, which pick up a good amount of speed.
My party of five, ranged from ages 11 to 49 and each individual found something that they enjoyed. They truly cater to all ages with the younger children being immediately drawn to the large bounce pillows and the towering Frankenslide. The older individuals entered JJ's corn maze for a fun, yet challenging, way to test their navigation skills.
Perhaps, the most unbelievable part of this visit is when the sun sets. The entire atmosphere starts to change with some of the attractions becoming a little more chilling. On Saturdays, JJ's corn maze transforms into The Haunted Corn Maze. A team of scarers, each in full costume, enter the maze each waiting to terrify their next victims. The Eerie Trail suddenly becomes a little more unnerving with skifully places anamatronics around every corner.
"My favorite part was the Hayrack ride as well as the Haunted Corn Maze," sophomore Eden Steen said. "They had some pretty creativeyoung actors that jumped out at you. One could easily tell that they had put a lot of effort into it."
Overall, Skinny Bones Pumpkin Patch is definitely the place for a fun, family friendly outing and a good alternative to a larger pumpkin patch like Valas. I find that even though they have a small number of attractions, they are designed to be done multiple times or have multiple parts to a certain area. I didn't feel overwhelmed or rushed to try to get through everything. I would definitely recommend this excursion to anyone who is looking for a great way to spend fall without breaking the bank.

About the Contributor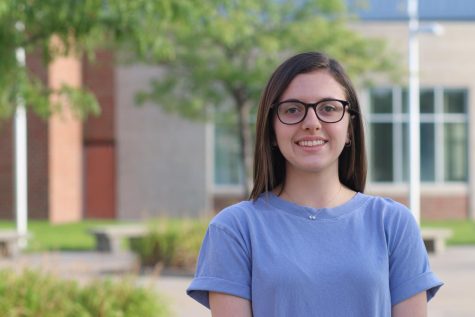 Chloe Parker, Staff Reporter
Chloe is a junior and in her second year of Advanced Journalism. She has enjoyed writing from a young age and loves being able to tell the stories of students...