Sidelined For Life
Junior can no longer play the sports he loves due to rare medical condition
Hang on for a minute...we're trying to find some more stories you might like.
Growing up in an athletic family, sports were all junior Alexander Hay knew. He played baseball and basketball and was always on the best teams from kindergarten to 8th grade. His favorite sport growing up was basketball because he could rain three pointers like no other.
Once his eighth grade basketball season came to an end, Hay was very excited for the new athletic challenge ahead of him in high school.
Prior to trying out for Millard West High School basketball, Hay was required to get a routine physical to ensure his health could handle sports. Then Hay heard the news no young athlete wants to hear from a doctor.
There is a murmur in his heartbeat.
After going through multiple tests at Children's Hospital, Hay was diagnosed with Hypertrophic Cardiomyopathy, a heart disease that is the most common cause of cardiac arrest in young athletes. The doctor informed him that if he were to continue playing sports, he would be at a higher risk to experience cardiac arrest. Although Hay was a huge competitor, he knew he couldn't just push through this obstacle.
This was out of Hay's control.
"I can't play basketball anymore," Hay said. "I also can't lift over 50 pounds, so I basically can't squat or bench to get stronger."
This news was devastating to Hay as this was his favorite hobby. Although he could no longer play basketball due to the nature of running in the game, his doctor decided he was cleared to pitch in baseball. It is good news, but with Hay not being able to lift weights in the offseason he is much more prone to an arm injury.
"Xander has been through so much with his heart condition," junior Dalys Beanum said. "Even with all of the negatives in his athletic career, he still stays positive. I have never heard him complain about not being able to play."
Hay goes to most of the Millard West basketball games to cheer on his friends who are on the team. Instead of becoming frustrated with the game of basketball, his love and appreciation for the game has only grown over the past few years despite not being able to play.
This heart condition is one that affects him mostly at a young age, but Hay will most likely have this for the rest of his life.
"This condition won't get any better. Every morning I take a blood thinner to help," Hay said. "Later in life I will have the option to get an open heart surgery but the doctor thinks I am far from needing a surgery currently."
Although only one percent of the people with this condition die every year, it still impacts the quality of life in these patients. It will be a struggle for Hay to stay fit and healthy as he cannot lift weights or run for long periods of time.
Hay still looks to help the baseball team as much as possible even though he can only pitch. These obstacles may be setbacks for Hay, but he uses them as motivation to be even better.

About the Writer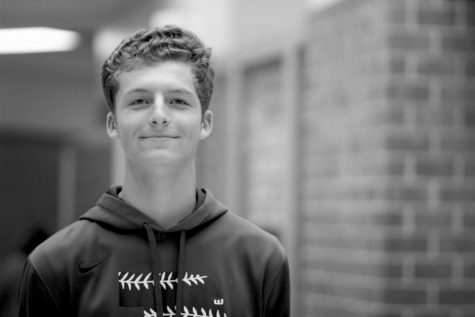 Matthew Pleiss, Staff Writer
Matt is new to Advanced Journalism this year. He enjoys writing sport stories, food reviews, and opinion stories. He plays baseball for the Millard West...