Nebrasketball Preview
An in-depth look at Husker Basketball's special upcoming team for the 2018-2019 season
Hang on for a minute...we're trying to find some more stories you might like.
The big red basketball fans have yet to see a squad that contends in the NCAA Tournament. Husker's reputation in the men's college basketball world has been more or less irrelevant in most of its history due to their lack of winning. With just seven tournament appearances in the lengthy 78 years it's been around, Nebraska still awaits to win just one game in the prolific series. This season, five-year head coach Tim Miles might have built the team to finish the infamous tournament drought.
Last season, the Cornhuskers finished the year with a fairly promising 22-11 record. Not to mention, they managed to end out the regular season winning 10 of the last 12 games, including a 20 point beat down against top 25 team Michigan. In the end of conference play, Nebraska became the first 13-win Big Ten team to not make the tournament.
That strong finish last year should reflect on the beginning of this season noting that Nebraska holds 4 returning starters. One of those players include senior All-Big Ten performer James Palmer Jr. who averaged a hefty 17.2 points last year, and he seems to be unstoppable when he attacks the rim. Impressively, Palmer Jr racked up 221 attempted free throws, the most by any Big Ten player last season. Another returning star is senior All-Big Ten selection Isaac Copeland Jr. who handled 12.9 points and 6.1 rebounds per game. Noting the fact that Copeland Jr. had played 106 Division 1 games, he is sure to be the veteran leader on the court that Nebraska needs. In the frontcourt, Junior forward Isaiah Roby led the team last year in both rebounding (6.3 rpg) and blocked shots (2.0 bpg). Roby piled 63 blocked shots a season ago, making it the most by any Husker player since 2001.
With Nebraska being a popular favorite to make the NCAA tournament, the expectations for the Huskers have been set high. Many critics say the Cornhuskers will, no doubt, finish top 5 in the Big Ten, and some go as far as saying they'll make the Sweet 16. The last time this team made tourney was in 2014 against Baylor. Unfortunately, the red and white lost 74-60 to the gold and green, ending that hopeful season abruptly. In multiple preseason ranking predictions, the critics have Nebraska sitting between 15-20 in the nation. That prediction is one of the highest preseason projections Nebraska has managed in its history.
Miles has also been working hard on recruiting the last 3 years, but he seems to strike most of his talent from transfers. Star player Copeland Jr. was a transfer from Georgetown and All-Big Ten Palmer Jr came up from Miami. However, 6'11", 268-pound beast Jordy Tshimanga requested a grant from his scholarship(A transfer) in this past off-season, causing Nebraska to lose a big man up front.
Just 2 seasons ago, Nebraska fans simply wanted Tim Miles out of the basketball picture coming off a 12-19 overall record, but Miles promised this team would see the light of day soon. Huskers being the only power-five school without an NCAA Tournament victory, this team has made their fans anxious every year. Given these points, the heartland team's upcoming season could turn some heads.

About the Writer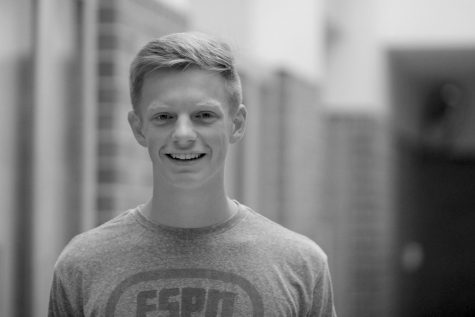 Aaron Mittlieder, Assistant Sports Director
Aaron is a senior and in his first year of journalism at Millard West. He enjoys all sports and loves how journalism can get him connected to athletics...