Mina Davis: Campaign for Equality
Millard West graduate runs for state legislature
Hang on for a minute...we're trying to find some more stories you might like.
Running as the only women of color for state legislature this term, Millard West graduate Mina Davis is campaigning to make her voice heard. Unlike some candidates, she has experienced multiple counts of racism which fuels her campaign in an effort to make a change.
Davis, now 26, grew up in the "overwhelmingly white" suburbs of Millard, which caused her to constantly feel left out. Davis progressed through high school debating on the Millard West Speech and Debate team, a place where she first decided she wanted to get into politics. After graduation, Davis attended Creighton University where she earned a degree in Business Intelligence and Analytics. A second generation American, Davis' father taught her the importance of being involved in her country. That, along with her military background, has shaped her view on the world.
"My parents talked about politics around the house which really made me aware," Davis said. "I remember when I was in third grade and my dad asked me who the president was and when I answered it right he gave me a maraschino cherry."
Davis hopes to make a change in local communities. Her platform hits on many topics including Women's Rights, LGBTQIA+, the economy, criminal justice reform and historic neighborhoods. Much of her day is spent personally going door to door telling people about her platform and causes she cares about. While she is running for District 8, and students from Millard West can't vote outside their district, she still wants to encourage change around the city.
"Our government is supposed to be 'citizen ran,' meaning an everyday citizen and it really isn't," Davis said. "I am an everyday citizen. I know the struggles, I work a full time job at Target and I didn't grow up in a wealthy family. I have experienced so many things."
One of the main topics on her platform is education. Davis sees education as an early investment in life, which is why she believes very strongly in it. She wants every Nebraskan to start o on a strong foundation from where they can only go up.
"I see great value in promoting college and career readiness programs for students," Davis said. "Students 'ought to have the ability to explore different career paths and choose a career and/or college that suits their interests. Fighting for more a affordable and accessible post-secondary options is a must as this will help to allow opportunity for all that wish to further their education."
Another big topic deals with working families. She supports affordable housing programs that help people be able to keep their homes, purchase a new one and ensure everyone has a place to live. She also wants to fight to keep affordable health care, to help families whether they are big or small.
"Fighting for a living wage is necessary," Davis said. "Ensuring that all have a chance to live the good life. We must continue to protect the right to collectively bargain in the workplace. This is necessary to encourage democracy in the workplace. Fighting for affordable and accessible healthcare is also a must."
Davis also talked about how in her campaign there are a lot of people doubting her and there is a lot of hatred because she is a young women and because of her skin color. Always looking up, she never let things get to her because she knows that in politics things are always messy.
"People called me a lot of not nice things, like racial slurs," Davis said. "One time someone sent me a glitter bomb in December and it was not supposed to be a nice gift. I knew things like this were going to happen, I'm a colored woman in politics and there are going to be people who always look down on me."
With less than a month until the elections, Davis is working to ensure that her voice is heard and her platform is tailored to the needs of her community. She also wants young women to know that they can do anything if they can put their minds to it and to not let anyone tear you down, no matter how confident they might seem.

About the Writer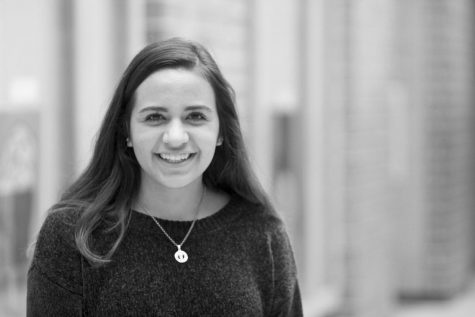 Natalie Eljamal, Staff Writer
Natalie is in her first year in the journalism staff. As a sophomore, she is exploring other classes to see what interests her. Natalie spends a lot of...