Feels Like Summer: A Looming Reality
Childish Gambino's new song is a wake-up call for everyone
Anticipation for descending temperatures ran high and expectation for scarlet leaves festooning pavement and turf filled the minds of Americans. Stores stocked shelves with autumn and Halloween themed decorations and pumpkin patches experienced an uptick in attendance. After a historic sweltering summer, the country was ready allay the heat and settle down for the rest of the year. Americans seemed to forget the scorching weather as soon as it ended.
Childish Gambino, also known as Donald Glover, set the world on fire again.
September 1st saw the release of the animated video for Feels Like Summer, a song originally published on July 11th. . Animated by Gregg Sharp and Ivan Dixon, the music video bolsters the message Gambino's vague hit.
"We interpreted his brief into a comprehensive storyboard with artist Felix Colgrave before going to full color design and animation," Dixon said in an interview with David Renshaw, a journalist for Fader. "Donald gave us a lot of freedom to interpret his brief creatively. He was most concerned with capturing the hazy, hot, polluted atmosphere of the clip. Ivan worked closely with background artist Andrew Onorato to create a street scene environment that felt like it could be straight out of Atlanta only with apocalyptic colors."
The music is refreshing in an age of technology based instruments. The primary 10 seconds was unnerving due to the over-echo effect on the instruments, however the emergence of the vocals served as a cue to upgrade the music. Using an array of basic instruments, Gambino masterfully constructs a calm beat. The lyrics serve as an opposite compliment to the music. The tranquil sound of Feels Like Summer pairs amazingly with Gambino's gloomy poem.
Indeed, Feels Like Summer is a poem and an intricate one at that. Gambino tackles major issues through the song, from climate change to animal extinction.
"Seven billion souls that move around the sun/Rolling faster, faster not a chance to slow down/Slow down" is a reference to Earth's rapid population growth. The EU predicted that by 2050 the world's population would be around 10 billion, equating to almost 100,000,000 new citizens each year. Provision shortages are linked to this, resulting in much less food for people in third world countries.
"Men who made machines that want what they decide/Parents tryna tell their children please slow down/Slow down" is the most difficult line in the song to understand. While many believe this is a reference to artificial intelligence, the answer is much different. This is referencing disciplinary power: oppressed individuals being kept at the bottom to keep a society moving. The continuous struggle between political parties, namely Democrats and Republicans, results in politicians abandoning their points of view in order to gain popularity and have a chance at political prowess.
Gambino tackles climate change and water scarcity with, "Every day gets hotter than the one before/Running out of water, it's about to go down/Go down." He states that we are closer to a global extinction then we think. He then preaches about the mass amounts of animal extinction with, "Air that kills the bees that we depend upon/Birds were made for singing/Waking up to no sound/No sound."
These verses are summed up in the chorus: "You can feel it in the streets/On a day like this the heat/It feel like summer."
Gambino overturns the prominent definition of "summer" from a soothing enjoyable season to images of droughts, crime spikes and extinction. It is not defined by surfing or distraction, rather a time that highlights global problems. This altered image comes at a critical time in which the world is becoming more problematic to Gambino.
The lyrics' message is obvious, however the video is chalk full of amazing messages.
Gambino is promenading down a street listening to headphones, scarlet atmosphere in the distance. As he walks, rappers and prominent black figures, from Lil Pump to Oprah, are milling about in the neighborhood. Drake is chasing Future who is riding a cycle and the Migos are shooting hoops in their front yard.
On the surface, it is a tribute to rappers old and new whilst providing colorful visuals and creative transitions. However, every frame is used to accentuate Feels Like Summer's theme.
Lil Pump and Trippie Redd are seen visiting other rappers in the first few frames. They slam their hands on a car to peek in at 21 Savage and Metro Boomin' smoking a joint. It adds to an idealistic society where citizens can smoke a harmless drug without forceful legal intervention. The two child rappers then stop by a house with Kodak Black inside, a reference to his arrest.
After Gambino kicks away a basketball that rolls over to him, brown smoke surrounds his face as the first verse begins. Birdman's grilling creating pollution expounds how greenhouse gases are causing the world to heat up and Jaeden Smith's jumping into frame illustrates a dangerous influx of dangerous waves of births, enforcing the lyrics of the primary verse.
Gambino gazes the other direction to see Will Smith washing his car with a maniacal grin and Azealia Banks sitting in a tree. The clip symbolizes the world's dependence on machines that emit unhealthy gases. Travis Scott then destroys what appears to be a castle of foam building blocks with Nicki Minaj, showing how social progress cannot be made without a foundation: the world we live on. A game of tug of war is played while "Men who made machines that want what they decide" symbolize the struggle between political parties.
After darkness engulfs the screen, the audience sees Kanye West, wearing a rep cap, crying before Michelle Obama comes out of the blackness to console him. Trump supporters will be mourning their vote, for their president is the person who is leading the world to chaos.
From there, the video consists of many shots of rappers wasting water and glued to technology, showing the world's ignorance for the soil they walk on.
Finally, Gambino and other important black figures such as Whitney Houston and Michael Jackson fade into darkness, accepting the blackness currently consuming the world. Gambino looks at the world around him before turning away and settling down in his home.
These details are important to visually analyze and may be interpreted in a variety of ways. However, Feels Like Summer should be looked at as a whole. The antecedent clips expound the messages in the lyrics, however the video is larger than the sum of its parts.
The video shows a scarlet, polluted atmosphere, with people wasting a scarce substance while also focusing their attention on technology. It is a reflection of the world today. Without taking care of Earth, people will not be able to enjoy technology, music, basketball or biking. Darkness will envelop all in due time if the world's trend continues.
Many believe Gambino's song is a criticism of the world's citizens and their treatment of the Earth. This is not the case.
"I know/Oh I know you know my pain/I'm hopin' that this world will change/But it just seems the same/I know/Oh, I hope we change/I really thought this world would change/But it seems like the same" is Gambino's outlook on these problems. He wishes that the world will change and he understands everyone in the world will eventually feel pain for the environment they are destroying. A debate will not solve climate change or water scarcity, yet the world working toward a common cause will provide solutions for those debacles.
Feels Like Summer is a masterful song with the one of the best music videos of all time. Gambino knows the most pressing matter in the world right now. Politics should not be involved with the preservation of the planet. Progress for any political party is not possible without a place to live, and the world needs to wake up and realize where it is heading.
Everyone, immediately, should feel like summer.
About the Writer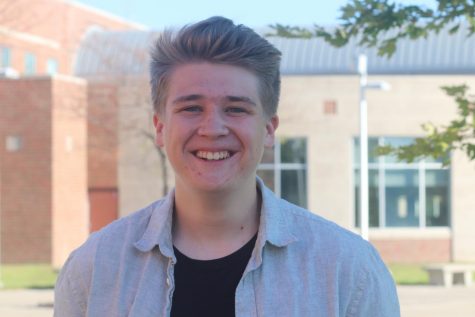 Edison Geiler, MWHS Wildcat News Editor-in-Chief, co-anchor MWHS Wildcat News
Returning for his third year on The CATalyst and MWHS Wildcat News staff, Geiler is focused on broadcasting as a senior. Last year he served as the MWHS...