Quarterback Havoc
Two juniors campaign for the number one quarterback spot
Hang on for a minute...we're trying to find some more stories you might like.
The ecstatic energy of Friday Night Lights has finally returned to West, but this time there isn't a clear quarterback #1. Anticipation for the 2018 season had flourished throughout the high school, and hidden under all of that presents two truly dedicated juniors fighting for that glorious number one spot: Tristian Gomes and Nate Glantz.
Both quarterbacks showed very similar strengths in their play making the depth chart difficult to finalize. Eventually the two learned their true test would begin on opening night facing the Mustangs.
Opening night took place on Friday, Aug. 24 in front of hundreds of students and parents. With that note, the quarterbacks definitely felt the pressure under their pads. During the game, head coach Kirk Peterson made the decision to give Glantz a fair amount of the first and second half, on the other hand, Gomes was given two series in the first half and two in the second half.
On the first offensive possession, Glantz trotted onto the field in a rather confident fashion. On just the third play from scrimmage, he lofted a spiral to junior receiver Kaedyn Odermann for a 42 yard touchdown pass.
"The pass to 'Odie' was easily my favorite play of the game," Glantz said. "That really set the crowd and the mood for the rest of the night."
Complimenting to that, Glantz kept progression at the quarterback position by evading the pocket successfully under pressure, and he threw promising passes on the run. After Glantz's run at quarterback, it was Tristian's time to show his potential. With his promising 6' 4" stature, Gomes seemed to have very good field vision, but had to endure a couple sacks deep inside his own territory. Later in the second half, Gomes started to take over a little more.
"I felt a lot more comfortable towards the end of the game," Gomes said, and he managed to float a smooth 17 yard touchdown pass to Jacob Harmdierks, giving him his first touchdown pass of the season.
During summer camp, the two juniors learned that their quarterback competition freshman year was now going to be a battle for the varsity spot. Gomes and Glantz both found promising mentors and motivators along the way.
"Leading up before my junior year, coach Turman (Offensive Coordinator) and former Millard West quarterback Gio (Giovanni Guido) mentored and taught me how to improve my game," Gomes said. "I look forward to getting more comfortable in the system throughout the season."
Glantz had similar sentiments when discussing his role models and why he loved the game.
"My grandpa played a huge role in this whole battle, and a coach I've had for a fair bit, Todd Dockson (former NFL Dolphins quarterback), inspired and gave me great pointers throughout the process," Glantz said.
Glantz finished four for six with 69 yards passing, 14 yards on the ground and one touchdown. Coupled with, Gomes pulled out a six for twelve 41 yard game with a single touchdown as well. Both reported they were confident in securing the starter position. Under the lights, the two performed and demonstrated their strengths and weaknesses, and the question on who's the set starter should be answered in game four.

About the Writer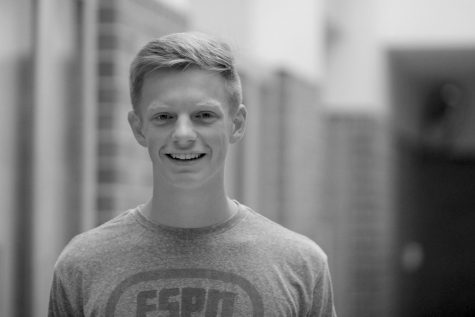 Aaron Mittlieder, Assistant Sports Director
Aaron is a senior and in his first year of journalism at Millard West. He enjoys all sports and loves how journalism can get him connected to athletics...