Tully is Here to Help
This film shines light on the hardships of motherhood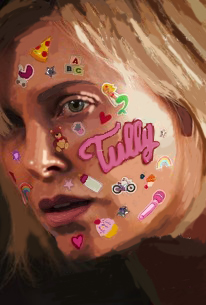 Motherhood.
It's a full-time job.
And director, Jason Reitman, pieces the hardships of mothering children incomparably in his new film Tully.
Pregnant Marlo (Charlize Theron) is a mother of two—Jonah (Asher Milles Fallica) and Sarah (Lia Frankland). As Jonah is being described as 'quirky' throughout the movie, Marlo struggles to keep up with his constant temper tantrums and problems at school, making the stress of her pregnancy all the more strenuous. Father, Drew (Ron Livingston), is often occupied with his job, leaving Marlo left to deal with the children.
It's no secret that babies are needy. They're cute, but needy. Waking up countless times during the night to aid a wailing infant is no walk in the park. In fact, it's exhausting and hard on the sleep schedules of moms.
Throughout the film, each time Marlo needed to assist her newborn, it made me exhausted just sitting there. As someone who loves to sleep, the idea of going to bed late and waking up early, not to mention getting up countless times throughout the night, makes me sympathize for all mothers of the world.
Each night is a repeat of the one before. Waking up, feeding the baby, changing the baby, cradling the baby. Marlo becomes mentally, physically and emotionally drained. Her well-off brother Craig (Mark Duplass) recommends a night nanny who he has offered to pay for as a baby gift so his sister can get some rest.
At first, Marlo is a bit standoffish about the idea of a stranger watching her newborn. Until the day that nothing seems to go right. Marlo has to pay the school administration office a visit to discuss Jonah and on top of that, baby Mia won't stop crying. She hesitantly picks up the sticky note with the nanny's number and calls.
It's late at night and the doorbell rings. Marlo slowly creeps towards the front door. She is greeted by a young, smiling face.
"Hello, I'm Tully, I'm here to take care of you."
Tully (Mackenzie Davis) enters the house and starts to take care of Mia without a second thought. After a few questions, Tully asures Marlo she knows what she is doing and to get some rest. Marlo does as she is commanded. With each night, Tully and Marlo bond. They share similar interests and a love for Mia.
But Tully isn't there just to take care of the newborn, she's there to aid Marlo in the first stressful stages of taking care of a baby. Marlo can now sleep at night and feel energized in the morning. This night nanny was a major game changer.
I specifically remember seeing this trailer multiple times in the theater. Since the trailer was somewhat vague, it made me want watch it in order to understand what this film was about. To me, the plot seemed somewhat dry, but the makers of this film also made Juno so I figured there was more to Tully than I expected. I was pleasantly surprised.
This film is rated R for language and some sexuality/nudity. Tully probably appeals more to women rather than men since it is centered around an exhausted mother, but I think anyone who has experienced the hardships that children come with can relate.
Tully was beautifully made. The relationship between the family as a whole becomes stronger which was shown through the raw, simple moments in the film. The life of this family was never sugarcoated which is what I enjoyed.
*****/5