Senior Pranks: A Troublesome Tradition
Hang on for a minute...we're trying to find some more stories you might like.
Senior year is full of customs. From junior takeover, to ditch day, to superlatives, the final year of high school is sure to be busy. But with great tradition comes great responsibility — and not-so-great drama.
Deciding on a senior prank is the most recent cause for contention. With insults and hostile comments blasted across the Class of 2018 Facebook page, it's easy for students to feel uninvolved or unwelcome to the process. Ideas are refuted, opinions attacked.
Do the students release animals in the school? Cover the commons with ping pong balls tossed from the mezzanine? Or something more destructive?
Several students have reached out in the Facebook group to advise against any activity that would cause harm to pets or be strenuous for the friendly custodial staff. All prank ideas must be the sole responsibility of the seniors — set up, tear down and whatever else goes into the feat.
Millard West Principal Greg Tiemann remembers his first memorable senior prank as an administrator.
"I haven't had a whole lot from recent years, but my first year I got a car dropped off in the front entrance," Tiemann said. "I'll never forget that day."
Students from the Class of 2009 bought a car, popped its tires and spray painted across the vehicle before placing it in the front entryway. The school had to spend a couple hundred dollars to tow the car into the parking lot.
Tiemann lays out four parameters for an approved senior prank — safe, damage-free, nondisruptive for the entire school day and no undue burden on the custodial staff. If these are met, the prank is green lighted.
Senior pranks are a tradition across the country, but are not always easy to pull off. With a lack of consensus and no clear leader, the graduating class at Millard West is having trouble with the planning process.
The Class of 2017 filled the parking lot with bicycles, blocking entrances and disrupting traffic in the process. Graduating seniors from 2016 merely attempted to cause disorder in the lot, but never followed through. Teachers look back on several generations of students participating in the "Senior Snuggle," where students bring pillows and blankets and lay down across the hallways. More often than not, prank attempts are futile and inconsistent.
Senior Ashleigh Shafer stepped up to try to plan the event with only 12 school days left. She also took the lead on planning the senior campout, and figured that if she could bring the group to consensus on one issue, she could do it on another.
"As much as I love our class, we are not very good about buckling down and planning things out," Shafer said. "I went through the Facebook page and took the top liked and commented on ideas and went to Tiemann to get things approved."
With about two weeks of high school to go, May should be the time of togetherness within a senior class. It is the last of the lasts — college decision day, senior banquet, campout. The list goes on, and so does the planning necessary to leave a legacy at the school.
"I don't think the prank is as big a tradition at West as it at other schools," Shafer said. "But I know that our class wanted to leave a mark bigger than just giving donations to the school."
As graduation inches closer, the long list of traditions comes to an end. If everyone works together with Wildcat Style and Pride, a senior prank may be pulled off. The Class of 2018 should exit with respect, dignity and above all, a good laugh.

About the Contributor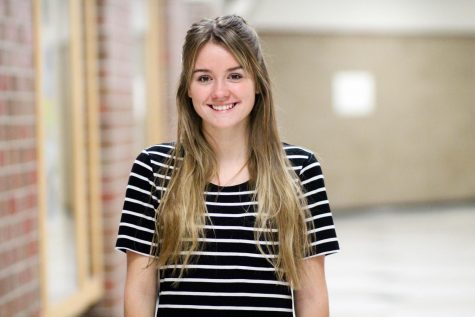 Madelyn Anderson, Opinions Editor
Madelyn is starting her final year at Millard West. This is her first year in journalism and she enjoys writing opinion and feature stories. Madelyn is...