eSport scholarships: Paying for college through video games
Hang on for a minute...we're trying to find some more stories you might like.
Finding the right financial plan and applying for scholarships for college can be a daunting task for students and parents, but could hours of playing video games make college more affordable?
Across the nation, universities are making more scholarships available for students with experience in playing highly competitive and popular video games such as Overwatch, League of Legends, Hearthstone and Counter Strike. As unbelievable it may seem at first, competitive gaming and eSports have taken the world by storm, with League of Legends World Champion matches viewed by approximately 43 million people around the world in 2016, according to League of Legends creators Riot Games. Even in the midwest, colleges like Midland University and Morningside are offering eSport scholarships to students here at Millard West.
Midland is one of few local colleges in the midwestern region to be advancing the legitimacy of eSports by promoting its own team and scholarships for students involved. According to their website, Midland proudly proclaims itself as the "first college in the state of Nebraska to offer eSports as a varsity sport in 2016." With the eSports team a part of the athletics program, students in the league can be offered athletic scholarships. At the discretion of the eSports coach of Midland, Ben Nabity, the athletic scholarships for students in the eSports team can be renewed each year as they play competitively against other schools.
There are already some students from Millard West who are taking opportunities regarding eSport scholarships offered by colleges. One of the students on the Midland eSports team is senior and Millard West alum Joey Evans, playing on the team for his second season. Millard West students yet to graduate, such as junior Michael Hughes, plans on applying to Midland University for its eSports program and scholarships.
"They offer scholarships a lot of other schools don't," Hughes said. "One of my teammates and friends got a scholarship for eSports there and said I could probably get a scholarship there as well, so that's a big reason I'm thinking about applying there."
When he's not hanging out with friends or doing homework for classes, Hughes spends his time honing his skills in the competitive shooter, Counter Strike: Global Offensive. Just like football or soccer, as Hughes plays to improve his skills, he is meeting new people and connections along the way.
"I'm very passionate about it actually, I don't tell a lot of people about it," Hughes said. "It's not really mainstream yet, but it's something very important to me. I can't tell you how many times I've met amazing people online, and get to play with some of my closest friends."
One Millard West student (who asked to remain confidential) was granted an eSport scholarship from Morningside. Like Midland University, Morningside has its own eSports team and $5,000 worth of scholarship funds available every year for students on the team. To be considered, students must document themselves playing competitive video games such as on gaming platforms such as Twitch and be interviewed by the head eSports coach, Dean Stevens.
Although this trend of colleges offering their students eSport programs and scholarships have surprised many, Millard West junior Nash Ward believes this trend is more than temporary.
"I definitely believe (eSport Scholarships) should be available," Ward said. "The video game world keeps expanding, and as it keeps expanding and players become more skilled. I think scholarships for them should be available."
Ward, who is an avid player of games such as Fortnite, a competitive battle royale game which is currently popular among competitions and streaming platforms, was asked how eSport scholarships would affect his college planning.
"If I were able to get an eSport scholarship somewhere, I would definitely want to reconsider what I'm going to do about attending the right college," Ward said.
Even staff members such as Millard West guidance office secretary Brenda Cary see a successful future for college eSport programs and scholarships for students.
"It seems that digital-type media such as gaming are becoming more and more important in the direction our lives are taking," Cary said. "I think colleges are following that trend as well, and trying to offer students who have a talent in that area a scholarship to their schools."
With college sponsored eSport programs and scholarships only a couple years in existence, they've already made an impact for students like Hughes with aspirations in eSports. As competitions and World Championships for competitive games gain larger viewership audiences, the possibilities for college eSport programs and scholarships become endless. With this, students interested in the world of gaming are given a chance to follow their dreams to play against other teams and be awarded scholarships to make their college education more affordable.

About the Writer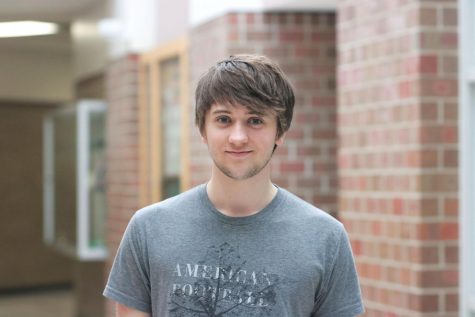 Jaxon Parker, Staff Writer
Jaxon Parker is a Senior from Millard West. His interests include camping, hiking, as well as a passion for music including hip-hop and indie. He also...