Senior Skip Yay
A day for school wide jumping ship
Hang on for a minute...we're trying to find some more stories you might like.
The smell of eggs, bacon and coffee wafts through the air. A large group is drawn to their favorite restaurant. The waiters are puzzled, the crowd looks young, and it's a Friday. The information dawns on them as a look of exhaustion crosses their faces.
Senior Skip Day.
Senior Skip Day was April 20th, and organized by the senior Facebook group. It quickly became a class favorite as this was the date the previous seniors did it as well. It was not clear as to how many would actually be participating, since no head counts or surveys were done. All that could be heard was whispers in classes.
No email was shipped out from administration to inform parents and many seniors had their parents call them out. Truancy can be haunting to have on transcripts.
A 2014 law, Legislative Bill 464, says school officials would be required to work with parents and children to address the children's absences. The bill calls on the state's 249 school districts to develop attendance plans that would have to be reviewed by a newly created council in the State Department of Education. Schools could refer children who accumulate 20 absences only if the plan to address those absences had failed. Referrals could not be based on sick days.
So, amongst the legal mumbo jumbo, it states that if multiple absences that are not sick days accumulate, you have to go talk with a professional about it.
Some students found it a cliché excuse for skipping. Others found it impossible to ditch seeing as their teachers scheduled a major test that Friday, perhaps to influence the seniors in the class to stay and get work done.
"I didn't do it since my classes were teaching new material, and it would be hard to make it up," senior Anna Stuckwisch said. "I think it's fine to ditch, a tradition even. It gives a day with your friends away from all the senior tasks needing to be completed."
One can be led to believe that social media has led to a high spike in students taking part in the day. Movies like Ferris Bueller's Day Off (1986), or Senior Skip Day (2008) and celebrities endorsing the day influence kid's perception of the day.
High schools are not the only institution that participates in the event.
Caltech, a southern California university, has Ditch Day as its oldest tradition. The seniors vanish from campus, but leave behind puzzles, games, and challenges to occupy other students. It's for the entire campus and allows everyone to participate, and keeps the underclassmen out of the senior's rooms.
The things actually done on Skip Day vary. While many go out for breakfast, there are also one's who sleep in, enjoy the great weather or even travel to fun places. The 20th was a beautiful day to go out and not be stuck in doors, with 60 degrees of sunshine and clear sky's.
"I tried a new breakfast shop," senior Anna Bunik said. "We hung out outside since it was so nice. Then I went to Missouri for Lacrosse. It was a nice way to relax before the tournament."
While the day can be ridiculed for the lack of actual skipping and the fact that not every senior participates, it's still a day of tradition. A tradition that was around before this years seniors parents.
It's a day to come together with fellow seniors to collectively get away for a day. Away from big tests and stressful scholarship deadlines. The ability to spend time with friends, that's senior skip day. That's not necessarily a bad thing.

About the Writer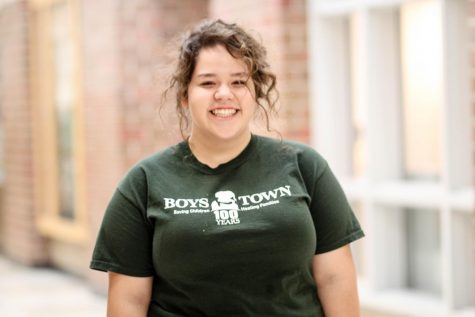 Isabel Johnson, Broadcasting Editor
Isabel is in her first year of Journalism as a senior, being the broadcasting editor. Isabel is involved as Team Captain for mascoting for Millard West....