That's a Wrap
Millard West Show Choirs perform for the last time
Hang on for a minute...we're trying to find some more stories you might like.
After weeks of anticipation and hours of rehearsing, special guests make their debut at the annual That Show Choir Show. The three Millard West Show Choirs, West in the Groove, Uptown Girls and Swing Cats, share the stage with their parents as they closed their season Saturday, Apr 14 with one final home performance. Families and friends were able to attend the emotional finale, which was spent celebrating and sending off the 2017-2018 season.
In the days before the show, students and volunteer parents were busy selling tickets online and preparing the stage. Once the night arrived, the auditorium was a full house packed with plenty of high energy spectators for the 6:30 p.m. and 8:15 p.m. performances.
After the groups gave their last performances, some people got to experience the stage for the first time. Some of the brave junior and senior parents from each choir group banned together to create their own hilarious faux choir, Uptown Cats in the Groove, which performed a show Saturday night as well.
The parents were lead by multiple senior captains who were in charge of cutting music and choreography from each show, piecing it together and simplifying it for the parents. Parents had eight hours of formal practice along with a Google Classroom equipped with videos of choreography so they could practice on their own time. From West in the Groove, senior Samantha Cope was showing the ropes.
"Their performance ran so smooth minus a few minor hiccups," Cope said. "They did an amazing job and you could gauge that by the crowds laughter. I'm incredibly proud of how they retained the moves and how their faces were engaged throughout the entire performance."
The performance added a much-needed, light-hearted segment to the night. Amongst the laughter, many tears were shed as the reality of closing their high school show choir chapter dawned on many seniors. Senior Lauren Dubas was filled with mixed emotions after performing her final show as a member of West in the Groove.
"The last time performing was bittersweet," Dubas said. "Show choir has given me so much happiness and so many friends, but it was difficult to think that I won't have that special kind of activity anywhere else in my life moving forward."
Last on the nights agenda, senior tributes took place. A slide show displayed each students baby and senior photos along with a description of their plans for the future. The seniors were given a rose as they walked across the stage with their parents. They were able to hug and thank each of their directors as they passed by, one of them being choir director Zack Bjornsen.
"I've had most of these kids all four years of high school and some since they were in 6th grade at Russell," Bjornsen said. "It's hard to say goodbye, but I'm very proud of who they have all become and look forward to seeing how they will change the world."
As the festivities came to a close, the three choirs reluctantly hung up their vibrant costumes and dancing shoes. Their night was ended with an emotional singing of Seasons of Love from Rent as the students said goodbye to their season.

About the Writer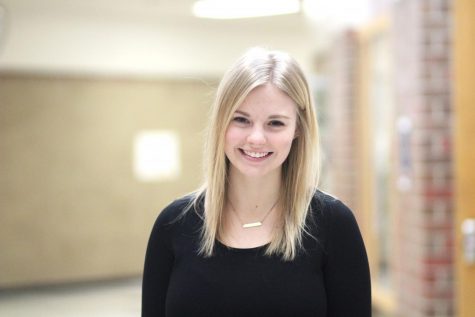 Holly Rooney, Staff Writer
Holly Rooney is a senior and this is her first year being a part of advanced journalism. Her favorite stories to write are news and feature. She has spent...