Crossing the Bridge to Safer Schools
Unlike a gun, the determination of the younger generation cannot be silenced
Hang on for a minute...we're trying to find some more stories you might like.
Millennials? Generation Z? iGeneration? Students across the country are beginning to utilize another term — the school shooting generation. The generation that is using their voice in a way few young people have before. With 17 injurious or deadly school shootings occurring on educational ground in the first few months of the year, 2018 has held vast tragedy on school campuses — and students aren't allowing this loss of life to go unnoticed.
In response to these all-too-prevalent occurrences, students across the Omaha metro area joined the world in the March for Our Lives event on Saturday, March 24th. Hundreds of thousands of individuals rallied in support of stricter gun control and safer schools through marches from blue states to red states, New York to Los Angeles and Guam to Switzerland.
The movement was entirely student led, as the national rally in Washington DC was planned by the survivors of the Stoneman Douglas High School shooting that left 17 individuals dead. Local high schoolers and college students organized a march of their own through the Omaha Student Union with the help of non-profit organization Indivisible Omaha.
Involvement with the March for Our Lives movement is not unfamiliar at Millard West, as just a few weeks prior to the march, students participated in a walkout during second block and a safe schools rally before classes began. Students have also been wearing orange bandanas and ties around their backpacks, symbolizing a quiet call for reform.
Several Millard West juniors and seniors were deeply involved with the Omaha March, including senior Moriah Draper. She, in addition to Reed Hofer and Hannah Oeltjen, delivered a powerful, passionate speech to over 2500 attendees.
"Everyone deserves to be safe in schools," Draper said. "And not just schools — movie theaters, at concerts, everywhere. Gun violence is a serious issue in our country, and we really need to fix it."
Passion exuded from every speaker, all under the age of 21, as they stood together for legislative and cultural change. Hofer, a member of the Millard West Forensics team, felt little pressure due to his prior experience with public speaking.
"It was kind of exhilarating," Hofer said. "It was 30 degrees and raining, but we all got jazzed up when we saw the energy of the crowd and the size of the crowd."
When Hofer turned around on the Bob Kerrey Pedestrian Bridge and saw a winding, lengthy stretch of supporters, he knew he was a part of something bigger than himself — something that mattered to thousands of students just like him.
The main goals of the protesters revolved around a ban on bump stocks, raising the purchasing age to 21, implementing comprehensive background checks and better mental health treatment. All in effort to never let a tragedy like Parkland, Florida occur again.
Massive demonstrations throughout the country undoubtedly caught the attention of lawmakers and political news correspondents for better or worse. Whether or not change will blossom is still up for debate.
"My optimistic side says [change will occur], but my realistic side says no because our government is so deep in the pocket of the NRA that it really prevents any new laws from coming forth," Draper said.
As protesters crossed the Bob Kerrey Pedestrian Bridge, and consequently the Nebraska-Iowa border, the group represented the first step towards a safer environment with less gun violence. A symbolically-seamless transition that will be much more difficult in legislative chambers.
Although the event was not met with any present counter protesters, disapproval is still widespread across ideological divides. Senior marcher Max Cvitanov does not see a reason for these conflicts.
"I think a big misconception is that Democrats want guns to go away completely and Republicans want everyone to have a gun," Cvitanov said. "We just need stricter regulations to improve safety for everyone."
A vast majority of marchers don't want to expel the second amendment, but only to increase regulations and age limits to further ensure safety of children in schools. Misinterpretation of the movement will be the single most detrimental component in further progress, but the motto of the March for Our Lives says it all — Never Again.
"We are the school shooting generation," Hofer said. "Most of those in power in Omaha, Lincoln and Washington DC have not had to live their entire lives like we have. Our perspective matters now more than ever."
Students are doing everything in their power to initiate change, even if they are unable to cast a ballot themselves. The youth-led movement left kids feeling empowered and ready to get involved in the political sphere —  local or national, big or small. The voices of young individuals is undoubtedly impactful and necessary in an issue as pertinent as school safety. The cries of thousands can not be ignored forever. As students step forward, change will follow.

About the Writer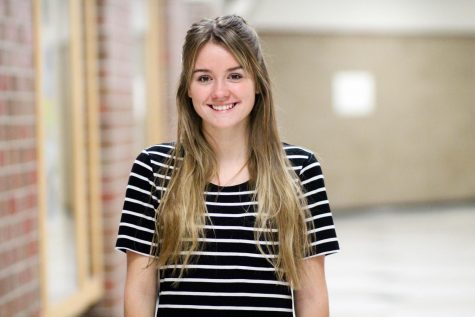 Madelyn Anderson, Opinions Editor
Madelyn is starting her final year at Millard West. This is her first year in journalism and she enjoys writing opinion and feature stories. Madelyn is...