Beefed Up Security
Hang on for a minute...we're trying to find some more stories you might like.
Columbine. Parkland. Sandy Hook.
School shootings have become something that districts need to be prepared for and the Millard Public Schools district should be all too familiar after the incident at Millard South in 2011.
Since that school shooting, the district implemented new measures to try and better prepare for a future attack.
"The last bond issues that passed after the Millard South shooting included in it more safety and security for all buildings across Millard," assistant principal Stacy Longacre said.  
For Millard West in particular, the school has all of its exterior doors wired to a camera system so the security team will be notified if a door is opened that typically isn't supposed to be.  There are also inside locks on classroom doors.
According to Longacre, they upgraded the quality of the surveillance as well. This improvement helps the security team identify people as they approach the building. The external doors have cameras looking out so the  guards can see who is coming towards campus
For example, if a physical education class went out to the football field to do an activity, it's going to buzz at the front monitor signifying that door was opened and they will have to manually shut that alarm off.
"It pulls up the camera that's facing the door, so they can see if it's a class leaving or if it was a student letting another student or an intruder that was trying to get in," Longacre said.
Students are not allowed to let people in at other doors around the building. Longacre acknowledged students still try and come in Green Mile doors, but it is important to use just the two approved entrances.
There are buzzers at the two doors that administration wants the students or visitors to come in because they're manned with security staff. This way they can monitor whose coming in and what they are carrying or bringing with them.
Another change that occured was school districts across the state ditched the code red/yellow policy in favor of lockdown/lockout.
The new policy, Standard Response Protocol (SRP), uses the same language as law enforcement, who recommended to use this language, so they know what is going on when they arrive.
Lockout was formerly known as  "code yellow." Millard typically operates in a Lockout at all times outside the building because they keep all the doors locked and students have to be buzzed in. When there is a Lockout inside the building, the teachers have to lock their doors and not allow students to be in the hallway, because there's a possible threat outside of the building. It could also happen because of a health emergency, like when an ambulance comes. They need to keep the halls clear so the person or issue can be dealt with in private, and not have everyone have to witness it.
Lockdown, which is filling the void of a "code red" is where students get down and out of sight. The lights go off as well so if there is an active shooter, he/she would have a harder time finding a targets.
Despite these recent actions senior Greg Kipp still feels a potential intruder could get into the school pretty easily, especially if he/she is a current or former student and knows their way around the school. 
On the other hand there are also students who feel Millard could still do more to be better prepared.
"We need to have more drills in case a shooting actually does happen here, but for the most part, I feel pretty safe," senior Nina Fernandez said. "But maybe that's just because I have a mentality that 'oh thats not going to happen to me'."
Longacre stated the goal is not to have students attend a school that's locked down like a military camp. Barring razor wire around the building, and metal detectors and armed guards everywhere, she doesn't know how the district can totally prevent everything, but she does note the district has put these changes in place to try and minimize what an intruder might be able to accomplish.

"I think that we make it more difficult and we have more things in place to minimize the damage that could be done but unfortunately, in a free society there's always going to be dangers," Longacre said.
While there will always be the possibility for a tragic or dangerous act to happen, Millard has made some improvements after what happened at Millard South to try and make it harder for a possible security risk.

About the Writer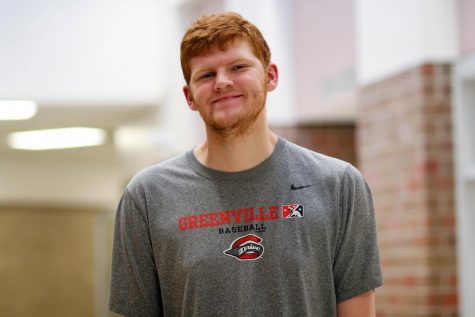 Craig Sullivan, co-Editor-in-Chief
Craig is in his second year working on the paper. This year he was named co-Editor-In-Chief and is in charge of running the class, making corrections on...