Young Dancer On the Big Stage
Michael Jackson's biggest fan and aspiring dancer gets big opportunity to dance on the big stage
Hang on for a minute...we're trying to find some more stories you might like.
From the minute he wakes up in the morning to the minute he goes to bed at night, sophomore Ferdinando Andrade lives and breathes Michael Jackson. And sometimes, he only wants to be referred as "Ferdie Michael Andrade Jackson."
Andrade, who has been a huge Michael Jackson fan since he was 8 years old, has been practicing and perfecting his moonwalk, and fuelling his passion of dance since he first heard of the iconic pop performer.
It is not rare for Andrade to videotape himself dancing to some of his favourite Michael Jackson songs like, "Smooth Criminal" and "Thriller" early in the morning that he dedicates to family and friends, otherwise known by his fans.  
Last November, Andrade did something he's been wanting to do for most of his live, perform live at the Orpheum Theatre during "MJ Live"
Towards the end of the show,  and dressed as Michael Jackson during the 1993  Super Bowl, Andrade joined others on stage to show off his dance moves. The sophomore's dance move's astounding resemblance to the King of Pop's exhilarated the crowd and got them on their feet. By the end of his short performance the Michael Jackson impersonator was so impressed he was on the ground and Andrade was complimented by a standing ovation.
On his way out of the show, Andrade was surrounded by impressed crowd members who desperately wanted his picture.
"We couldn't walk a couple feet without somebody asking us for a picture," Ferdie's mother, Maria Andrade said. "I was so surprised and happy for him."
Fellow Millard West student, junior Kate Mccoy, was in the crowd that evening and was amazed by what she saw.
"Seeing him on stage was a big shock to me," McCoy said. "Also, his dancing was better than anyone else on that stage. Ferdie's got moves."
At home, Andrade receives full support from his family. His mother, Maria Andrade, does everything she can to help him reach his goals, including making him gloves and suits to help him match his idol. Andrade's room is also completely covered with Jackson posters and drawings.
"What Ferdito has is passion to the highest level," Maria Andrade said. "Everyday he asks me to help him get his own stage. I always encourage him to perform in front of family and friends. I would do anything to make his dream come true."
Maria Andrade is also going as far as looking for dance teachers and choreographers in hopes of helping to perfect his craft. But for now, Ferdie Andrade is still doing well as a self taught dancer.
 Going forward, Ferdie Andrade wants to perform outside of the U.S in places such as London as a Michael Jackson impersonator just like the one from "MJ Live."
"Michael Jackson is the king of pop," Andrade said. "If I am Michael Jackson, I am the POP!"

About the Writer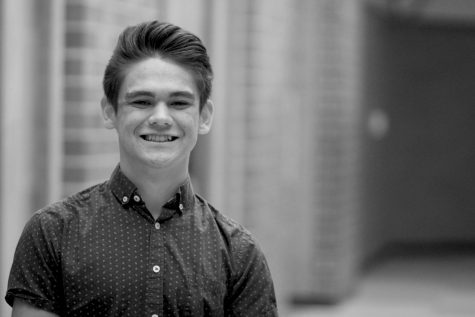 Gabe Paredes, Entertainment Editor
A Venezuela native, Gabe is fluent in both English and Spanish. Gabe's entrance into the Journalism scene was rare and sudden, but he has enjoyed every...