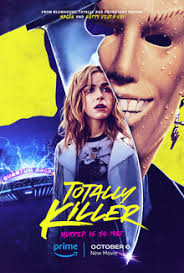 Thirty-five years later, in what was once a crime free town, the infamous "Sweet Sixteen Killer" has returned to claim his fourth, and final victim, 17 year old Jamie's (Kiernan Shipka), Mother Pam. (Julie Bowen) Pam was the fourth and final piece of the killer's motive, and she was now dead. When Jamie comes face-to-face with the killer, she accidentally travels back to 1987, with a mission to rewind the murders, and save her Mom.
Immediately, this introduction was intriguing. I was hooked from the moment the movie began and was excited to see where it could go.
We start off the movie as we see Jamie finding out about her mothers Halloween night murder. Devastated, Jamie runs to meet her friend Lauren (Troy Anne), as she had been working on a time machine so she could be sent back to 1987, and reverse the murders of the three previous girls, and destroy the killer once and for all.
While the plot was unrealistic, It was a great modern hook, and an exciting different type of movie. With the movie kicking back to the 80's, we find Pam, and all her friends who had been killed, still alive. Jamie tries her best to persuade Tiffany Clark "Liana Liberato" as she is the first one to get murdered that night, to cancel her 16th birthday party. They refuse and somewhat bully Jamie as she was perceived as the "new kid."
I obviously was enjoying the movie at this point with the slight comedic jokes, and also the seriousness of the situation. It made the movie not only intriguing, but funny as well.
Later that night, Jamie recruited her friend's mom who made the time machine, and they together went to the party with hopes to reverse Tiffany's murder. But with nobody believing, the murder occurred.
With multiple murders left to stop, I was hooked into what Jamie could do to save her mother, and potentially her friends.
The next weekend, Jamie had the idea for them to get out of the city for the weekend, but that was a bad idea, the next murder took of Marissa (Stephi Chin) took place. There were many suspects but most didn't make sense. Except one, all the years in present time, Chris Bubois (Jonathan Potts) had a podcast about the murders. So I thought it could definitely be him.
The next two girls murders went to plan in the timeline, Jamie did all she could to prevent them, but she couldn't, and when it came time to save her mother, the killer was revealed, It was Jamie's principal, her, and her group managed to kill him, but then another masked killed came, and it was Chris, so there was a copycat killer. Jamie took him down as well and traveled back to the present where time had altered multiple different things, but her mother was in the end alive.
Overall, the movie was solid but unrealistic, and had some dull points. I enjoyed the subtle comedy and key moments throughout.
3/5