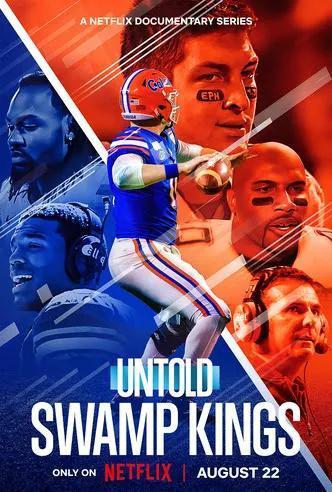 Over the years, college football has seen many all-time greats from Tom Brady, to Patrick Mahomes, generations of talent have been unleashed from collegiate programs all over the nation. But something goes by without much attention, the Urban Meyer era in the swamp.
As college football progressed through the 1990's we began to see a known powerhouse on the decline, that was the Florida Gators. A program like Florida was expected to be anywhere from undefeated, to one loss every single year. But Charlie Strong, the previous coach, hadn't done that at all. He had led them to multiple loss seasons, multiple times, and the program was done. They thought they'd give a new riser a shot, Urban Meyer. Meyer had coaching experience as he had previously coached the Bowling Green Falcons, and the Utah Utes, but Meyer had seen nothing like the SEC elite competition.
In the first episode of the four-part docuseries "Go Hard or Go Home", New coach Urban Meyer attends the lost locker room with a goal to change the culture in the swamp, and take them back to a winning culture, but that wasn't Meyers' goal, his goal was one thing and one thing only, win a national championship. One thing we hear in the first episode is "Football in the SEC is like life or death down there", said a Florida inside. One loss in the SEC, your team is seen as a failure.
How many expected this series to be filled with crazy stories as most football fans have the background knowledge of the team. For example, twenty-seven gators were arrested while playing football for coach Meyer. But more of what we received was their rise to greatness on the field.
Through the first three games, Meyer had the Gators sitting at 3-0, and ranked fifth in the country. There was a lot of hype behind Meyer, a lot of people in the state were excited for what was to come. At this point even I was pumped up watching on my couch, I mean who doesn't enjoy a comeback story?
The next game though was Alabama, now if you know football, you know Alabama is always pretty good. Going into the game the Crimson Tide was ranked 15th. Florida was expected to win, but Alabama had what was known as an elite defense. It was bound to be a physical game. Brandon Siler, the Gators defensive captain couldn't have said it better himself, "There is losing, and there is getting your butt whooped, and we got our butt whooped." The Gators took a devastating loss at home 31-3. And in the next week, again LSU had defeated them 21-17. The swamp "Kings" were now facing a 3-2 record, with a heavily critical fan base. At this point, fans focused on the next season, everyone expected Meyers to go after huge recruits.
Tim Tebow, everyone knows him. Meyer had been pointed to as a big hard-hitting and one of the best leaders we have seen at the level of college football. Meyers recruited him hard.
Entering week 10 of year one for Meyer, we find the (7-2) Gators visit the (6-3) South Carolina Gamecocks, now this game couldn't be more important for Meyer because Steve Spurrier was the opposing teams coach who happened to be the last quarterback on a national champion Gators team, who was now on the other sideline. South Carolina did exactly what Meyer was terrified of, they beat them. Sending the Gators to (7-3) and a loss to what at the time, was a coach every Florida fan wanted. Doubt flew through the fans' minds. And everyone was left wondering if they had made the wrong decision, and if they were done from here. There wasn't a question if Meyer was a born winner after he kicked two players off the team for laughing after the loss on the plane ride home. But there was no question about it, Meyers' confidence has fallen.
Now it was really important that Meyer and the Gators landed Tebow, although nobody expected it, they did just that. Tebow had committed to Gainesville, and fans were back to ecstatic.
The next season was wild, the Gators had a squad of trouble makers, and superstars, they showed the world the difference between real life, and football. Ultimately, they fell short, in this documentary we missed out on a lot of details fans wanted to see, but it was still solid.
3/5