Project Wee (All) Care
Students devote time and energy to helping those in need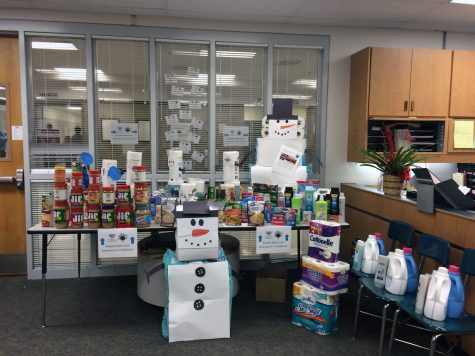 A colorful tree. Bright lights. An extravagant dinner.
While most people expect these things to be a given at Christmas, others are not as lucky. What could be seen as a holiday tradition across the community, could also be seen as dollar signs that seem endless for some households. To those who have a hard time making ends meet, Christmas may be more of a hassle than a time to make lasting memories with family and friends.
One temporary solution to this: Project Wee Care.
Project Wee Care, is a local organization formed to provide care packages that include food, clothing and gifts for families in the Millard area who may need help having a "Merry Christmas." In the city, volunteers let the organization use their space as a distribution center. Know as the "North Pole" this is where all donations arrive to be separated into care packages and gifts are wrapped to be opened on the 25th.
Students from show choir group, Uptown Girls, helped at the "North Pole" during the season. While wrapping gifts, the girls witnessed all of the things that the children were receiving. Toys, clothes and other items from their wish lists piled in boxes ready to be put together and shipped out.
"It was amazing to see all the warm clothes and gifts that these kids were getting," junior Megan Kallman said. "It makes me feel grateful to know they will be happy and warm this Christmas season."
Each year they partner with other Millard schools, the Millard Business Association members and local families to bring the necessities to those in need.
Millard West has been a part of helping Project Wee Care since their start, about 11 years ago.
Fourteen clubs, classes and teams have collected items for the drive across the school. Assets in Action encouraged their students to donate, while other clubs like Key Club adopted a child to support this season.
"We explain the purpose of Project Wee Care to students," Assets in Action sponsor Shawn Juricek said. "We try to encourage them to bring in household objects and help on sorting days at the 'North Pole.'"
While widely thought to only be a Christmas phenomenon, Project Wee Care operates throughout the year. They gained notoriety for their extensive effect on the Millard community, helping over 7,000 families in their 11 years in Millard.
Social worker, Michelle Brady helps organize the event at West. Students can either make a cash donation or sponsor a family. When sponsoring a household, a student can buy gifts for certain that fit their wishlist.
Along with organizing the event, Brady also helps recommend families to Project Wee Care.
"Most who receive help from Project Wee Care have an existential or extreme circumstance," Brady said. "For example, in cases like the death of a parent or a loss of income, we might offer the help to relieve the burden."  
This season, Project Wee Care is expected to help around 300 families totaling in over 1000 people receiving aid for the holidays. If you have any questions on how to help, reach out to Michelle Brady in the counseling office, or use [email protected] to contact Project Wee Care directly.
About the Writer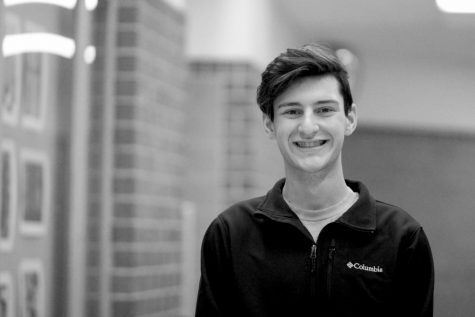 Trevor Lueck, Staff Writer
Trevor is kicking off his third year in journalism as a senior. In his last year, he enjoyed writing columns, hard news, entertainment reviews and producing...