Dodging Balls for a Cause
A friendly competition was held amongst QT's to raise money for the United Way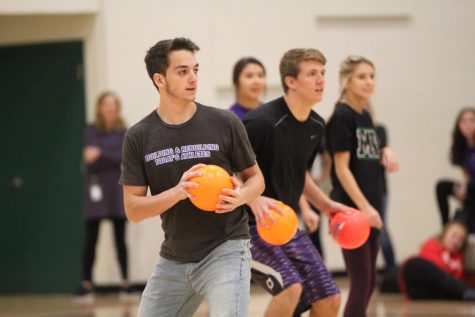 Students were dodging balls left and right for the United Way Campaign on Nov. 21, as Millard West hosted a dodgeball tournament to raise money for United Way.
United Way is a program that aids communities all around the world, and according to their website, there are 9.8 million donors who give their time and money to those in dire need. Along with that there are 2.8 million volunteers who have devoted a good portion of their lives to help those in need.
The top four Quality Times that donated the most amount of money would be playing. Amy McIver's, Chris Ingram's, Marilyn Kerkhove's and Heather Baker's QT were the top donors and played a quick 30-minute tournament during QT.
This year, Key Club came up with the idea to include a Dodgeball Tournament as Millard West had done in years prior. Tickets were sold to students as incentive for a $5 donation. All donations went to the United Way Campaign.
"The Key Club officers have really done a good job about promoting the campaign within our members and also the members have gotten involved," Key Club President Sarah Betts said. "The student body and the officers combined have really worked together to promote what The United Way is all about."
Officers of Key Club, along with the members, devoted their time at lunch to get their fellow students to purchase tickets. Trivia was asked at lunch as a promotion so students could win a free ticket. Willie the mascot went around encouraging others to donate as well. Along with that, the chance to be chosen to join the winning team in their celebration was also a possibility for those who bought tickets.
"The dodgeball tournament is something exciting during school that all kids can participate in and I think that piques their interest,"  Spanish teacher Heather Baker said. "This year we definitely decided to do something different which was that. I'm hoping this can be a tradition or something we can do every year for the United Way Campaign."
This was the first annual dodgeball tournament put on for United Way. It included the necessities: refs, announcers, teams and an audience.
During an extended QT period, the four teams battled it out in Wildcat I. The final duel came down to Ingram's QT vs. McIver's QT. Losing the first round, but winning the next two, Ingram's QT was lead to victory.
"Contributing to the United Way is always something that is good to do, and then being able to play dodgeball is a fun way to raise money for it," senior Tyler Bandiera said. "We are a competitive QT in general, so we wanted to raise enough money to compete."
Shortly after the dodgeball champions had won, the QT as a whole earned the privilege to ride in a limo to get their prize: Lamar's donuts. After the quick trip for breakfast, they drove by Millard South to show off.
This excursion lasted just under 30 minutes. Eventually, the reigning champions had to come back after an eventful morning.
Although United Way is a campaign found in many cities, the student's donations will help people here in the Millard and Omaha area.
"I feel like the United Way is important because it helps everyone in the community," Betts said. "People from Millard West are even affected so United Way helps families that we know and people you wouldn't think would need help but it helps everyone."
By balancing competitive fun along with relieving those in need, the student body will make a lasting impact on many. By donating money in return to watch their peers compete, students made a difference in the community.