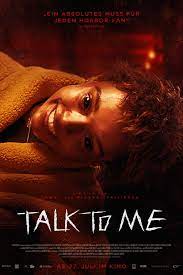 Just when you think a teenage girl has been through it all, Mia (Sophie Wildie) and her group of friends discover how to conjure spirits using a blood-curdling hand and a candle. The thrill of the hand connects an unhealthy and spine-chilling addiction to a world that should have never been turned over.
Released in July of 2023, the modern film "Talk To Me" follows a young high school student named Mia as she grieves her mother's death, and copes with the horrors of the underground spirits as she and her friends intake thrill from their presence.
Warning: Some spoilers ahead
At the beginning of the film, we find a storyline in which Cole (Ari McCarthy), is worried about his good friend Alex (Jett Gazley) as he has been acting differently. At this point in the film, I was already sitting on the edge of my seat, as I had no idea where this was going. The loud music and upbeat noise of the party they were at added tension to the situation. All of a sudden, Alex had snapped, for no reason he walked out, stabbed Cole in front of the whole party, then evidently stabbed himself. Not only was this in front of the whole party, but it was completely unexpected, and not to mention oddly horrifying. From this point on, the movie had me hooked.
Nothing excites a horror fan more than something that can actually put a shiver down their spine and that is exactly what we received in the first five minutes of this film. I couldn't wait for what was to come. With no expectations entering this theater, I was already being put into the perspective that this film had some of the most horror potential in a very long time.
Not long after, we flip the switch back to the main storyline with Mia, months after losing her mother, she was still searching for happiness. We see her and her best friend Jade (Alexandra Jensen) and her little brother Riley (Joe Bird), hanging out when Jade asks to go to a party. Mia refused, but after being begged for just over an hour she gave in. As they get there we meet Hayley (Zoe Terakes), who seems to be as unpleasant as they come. Just as they get settled in, Hayley introduces to the newcomers a game. Confused, Mia, Riley and Jade agreed to play, little did they know this was the biggest mistake they could ever make.
Touching the hand and uttering the words "talk to me" would conjure a dead spirit across from the person playing the game, after the words are said, you then have 90 seconds to talk to the spirit as they take over your body. If the spirit is still in after 90 seconds, they will want to stay. The main point of the game was to enjoy a thrill, but leaving that spirit in was a massive risk the kids shouldn't have taken. After a few rounds, the kids thought everything was fine, they all went their separate ways home, but this gathering sparked an addiction. Soon, they'd be shaking that hand again.
Not too long after, the real horror began, while a friend was seeking their experience with the hand, they seemed to have "conjured" Mia's mom. This led Mia to convince everyone to let her talk to her through the friend. The timer ticked up faster and faster as it finally reached over 90 seconds, Mia's mom had now chosen to "stay." Although the spirit had stayed, nobody really knew until the horrors to follow.
The unique style and horror etiquette the film had partaken in had been unusually good for an unheard of movie like this, and I honestly couldn't have been more excited for the final half of the film. I mean, we see movies do some crazy things, but this had to have been one of the most disturbing, although intriguing plots I have seen in my viewing experience.
The kids thought nothing was wrong but when Jade's mom left to go to work the night shift, they went to her house to play the game again. This time, they let Riley play the game. Riley, only twelve, had the spirit take over his body and he began to hurt himself badly. This was horrifying to watch. Riley was now in the hospital with what looked like life-threatening injuries. Riley and Jade's mother no longer trusted Mia near them.
At the end of the movie, we see Mia has begun to go crazy, she kills her dad Incidentally, then draws Jade and her mother away to kidnap Riley from the hospital, the ending was kind of dull but still impaired fear. Mia took Riley to the highway where Jade was able to save Riley before being killed. In order to save Riley, she had to push Mia in the road, killing her. This is where the film ended.
All in all, I really enjoyed "Talk To Me," as it showed great examples of horror and showed that the genre isn't lost. We see a great storyline throughout the film and we begin to feel interlocked with the characters and their time. The actors did an exponentially great job portraying emotion and getting the story across. This movie really appealed to me because it was actually scary, and there was never really a chilled-out moment.
Overall 5/5