A cheerful win
Wildcats take home white jackets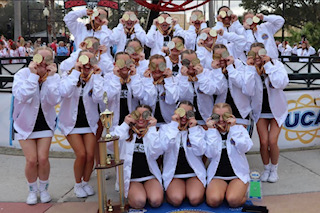 On Sunday, Feb. 12,  Millard West varsity competition won their 12th national title. The team flew to Orlando, Florida, to compete at the ESPN Wide World of Sports competition. The girls competed in the division for small varsity game day and tumbling. 
After a devastating loss last season, the girls were determined to win this year. Practicing six out of seven days a week they focused on improving their routine to be the best of the best. 
"The most difficult part of our season was during fall when we were having two practices every day," sophomore Leah Young said. "All of us were super exhausted, practicing the routine over and over but that is how we perfected our routine to look very sharp and clean."
This three-day competition started on Friday, Feb. 10, when they competed in prelims with only their game day routine, and on the second day of the competition February 11, is when they performed their tumbling routine in semi-finals and advanced to finals with both of their routines to compete on the final day. 
All pressure was on the girls to perform their routines perfectly and they did just that. Facing all the nerves performing in front of a big crowd they managed their stress with regular breathing exercises and meditation the team does together. 
"I trusted myself with my skills and all the training myself and the team have been doing, I just thought to myself you've done this many times before you can do it again," senior Isabelle Daly said. "It was definitely very stressful but now that we won nationals we are ready to take on state."
With all the hard work the girls have been putting in this season they ended with a score of 95.2 for their tumbling routine and a 95.5 for their game day routine.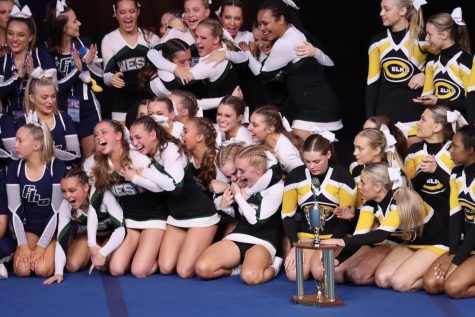 To celebrate their win the girls had a celebratory dinner with the team and their families at Hollywood Studios, which made it very special for the team and made it a private occasion just for the team.
"I am so happy that we won and so so proud of the team for what they have all accomplished," Young said. "I'm glad us girls all got super close this year and pushed through all of the setbacks we had this season."
The team has one more competition to attend which is state and they only have one thing on their minds: winning. The girls, along with this program are now 12x National Champions and are hoping to keep taking wins moving further on.