Leaders make a difference
Students sign up to volunteer at the first Millard West Debate tournament
On Friday Dec. 3, the Debate team had the opportunity to host a tournament this weekend to raise money. This was the 1st time Millard West has hosted a tournament this year so the students were asked to lend a helping hand. 
Students were tasked with doing odd jobs like running the concession stand, showing the participants around, cleaning rooms, and informing parents and students about the rules. About 16 students in total signed up to volunteer. 
" I was very excited to help because Mr. Spady said it's pretty fun and I look forward to going around helping and getting to know what debate is really about," sophomore Landon Underwood said." "It gave me the opportunity to talk and hang out with people that I haven't gotten the chance to know."
The debaters took turns running the concession stand. Selling sodas, popcorn, hotdogs, candy, muffins and chips to the many participants at the tournament. While some of them did the concession stand others were going around and helping the students who needed help finding the rooms. 
For many of the students this was their first time doing something like this. They got the experience of helping their community and supporting a school activity. 
On top of that many of them got to work together and had the chance to talk to their teammates and get to know each other better. They also were able to encourage the debater to win.
"It's amazing we're all kind and nice to each other," said sophomore Rushikesh Gurav. "We tease and joke around a lot so it's a very bright environment. On late practices we go out to eat and are able to just talk, and get to know everyone better and I really like it." 
The students were able to do this as funding for the Debate club instead of selling chocolates or cookie dough. Many of them preferred to do this instead because they all got to work together and help each other get through it.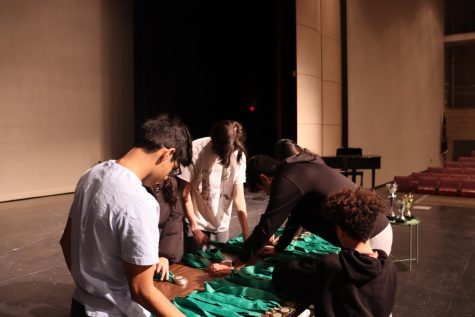 With an event like this they were able to see their friends from different schools and also after some students even decided to join or go into different forms of debate after getting to know some of the students who are in the group. 
"They did great as this was not one of our tournaments.," said Debate coach John Spady."We hosted and most of the kids did not compete so they were kind of volunteering around the school, guiding people to rooms and working the concession stand so in that case I think everyone did very well." 
In all, the whole event turned out to be a success for the participants from other schools but also for the students who signed up to volunteer. They were able to get together for a cause that meant a lot to them. To join the Debate club it is Monday and Wednesday after school at 3;15 p.m.