Surviving the lunchtime rush
New kitchen manager and other kitchen staff do their best with only eight members
Being short-staffed, the kitchen has gained another member, kitchen manager Nikki Annin, previously from Millard North.
Normally, the kitchen is supposed to have a total of 19 members. Annin and the rest of the kitchen staff have struggled with only eight people in all. Although three more people are coming in October, the team still has to feed over 1,000 students every day, short 11 members.
"The number one challenge that I face, obviously, is the short staffing, because you've got areas where we can't even put people," Annin said. "The other day we had two people call in sick, so we served 1,022 meals that day with six people."
Annin and the other kitchen staff members start their day at 5 a.m., starting with unlocking all the doors, turning everything on, and prepping different areas of the kitchen. They don't have anyone for breakfast, so Annin runs the register in the mornings. Since the mornings are slower, breakfast is much easier for her and the team, giving them time to talk to the students.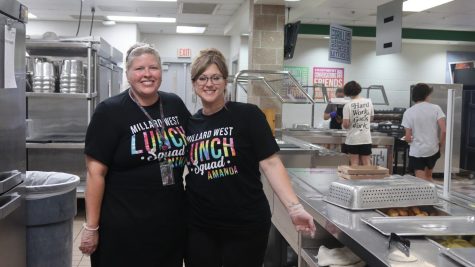 "When we're so busy I don't get a chance to talk to the kids as much as I want to," Annin said. "But, for breakfast, I always can, so that's really nice."
Volunteers in the kitchen are very appreciated by the staff members because everything that they do takes a long time. They have to prep and cook a mass amount of food.
Students from the Alternative Curriculum Program (ACP) help out sometimes in the mornings with things like cupping fruit or bagging vegetables. This helps the kitchen staff because it takes a lot of time to prepare all of those things.
"In the morning for the last two weeks we've had ACP kids come down, not paid, and they're so helpful because they come in and they cut fruit, and they fill our containers of silverware," Annin said. "Today they came in and prepped up three cases of mandarin oranges, which takes a lot of time, with smiles on their faces. They've been coming in for us and they do a great job." 
The staff does work a little differently than others because they don't have enough staff members for Annin to be able to do more office things, they all are always working in the kitchen cooking and prepping different things until about 2:30 p.m.
Annin works among the staff, including her production lead who works alongside her. The production lead is like an assistant manager.
"My job is production lead, so I'm right there, under Nikki," production lead Amanda Mitchell said. "In a nutshell, my job is to make her job easier. She's supposed to be more in here (in the office) and I'm supposed to be out in the kitchen being able to cook, so she can do her job."
Annin is often out in the kitchen helping out with everything in there, she helps hand out and make the hot food as well as prep food for the kids.
"Me and Nikki usually take about an hour and we make salads, 300 of them," cook Kara Kopystynsky said. "And from there, we just start cooking everything up and the cooking doesn't stop until now. And there are hundreds like you're having hundreds of things made on sheet pans. There are four cases of fries every day, which have six bags each. That's every day. And there are 200 spicy chicken sandwiches that everyone loves. There are 200 of those out every day. And Amanda keeps up on everything, she's is the backbone of the kitchen really when it comes down to hot food and everything."
Even though the staff struggles with the shortage, they still enjoy their jobs. The parts they love outweigh the difficult parts.
"I love the kids," Mitchell said. "I love feeding them out there, and I love talking to them. None of them are the same, they're all different."
The increased difficulty that comes with the limited staff hasn't stopped them yet. As the year continues, so will they.