Survived but never forgotten
High school students try to navigate their feelings after a tragedy at school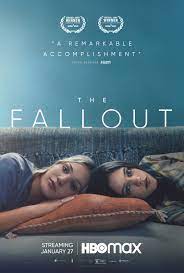 "The Fallout" is an intense drama about a diverse group of teens experiencing grief after going through the trauma of a school shooting. The film's main focus isn't the shooting; it is the aftermath of these high school students trying their best to cope after this disaster. 
The first few minutes of the movie start off as every other high school movie. The first main character that we see is Vada (Jenna Ortega). She is getting ready for a normal day of school. She heads out the door as her lifelong best friend Nick (Will Ropp) waits to pick her up. Vada is sitting in class as her teacher is lecturing when her phone starts to buzz. Vada's younger sister Amelia (Lumi Pollack) texts her saying there is an emergency and she needs to call her. 
Vada makes her way to the bathroom after leaving class and the glamorous Mia (Maddie Zielger) is standing by the mirror applying her professional makeup, getting ready to post on her Instagram account with over 80,000 followers. The drastic difference between Vada and Mia is hard to miss with Vada in her over-sized, baggy shorts and unlaced sneakers, and Mia looking like she's about ready for a party. 
Honestly, the beginning of the movie doesn't really grab your attention like a movie should. It seems to have fairly normal students, in a fairly normal school. Nothing grabs your attention until Vada walks into the restroom and starts a conversation with Mia. 
Mia was about to respond to Vada's awkward question trying to start a conversion. That's when the girls heard a shot, and then another louder shot, and then several more. At this moment the girls look at each other and the realization kicks in. There was an active shooter in the building. They run to hide in a stall, shaking and crying. These girls don't know if they are gonna make it out alive. The movie has your full attention now. 
Unfortunately in the United States the truth is a threat of a school shooting is on the rise. In the film, the shooting occurs in the first eight minutes. After that the rest of the movie is how each student is copying with this tragedy in their life. I truly feel that students struggle the most with the aftermath of what they lived through.
It takes a while for Vada and Mia to trust each other. They started off with texting and video chatting. They feel that no one understands what they are going through and they start relying on each other more and more each day. The girls end up hanging out in person and begin to learn about each other. Vada soon notices that Mia who seems to have her world together is really an outcast and loner at their school. This is where a friendship begins to develop. 
Two girls unlikely to have been friends before now stand in Mia's mansion where her two dads are gone because they are busy traveling for work, which is a normal thing so Mia is alone a lot. They discuss the nightmares they have been experiencing each night. This story would be different if one of them wasn't in the bathroom. They automatically gain trust with each other because they both understand what the other is going through.  
The only evidence of the shooting is when a classmate comes into the stall next to Vada and Mia while they are hiding. He asks who's in the bathroom and the girls answer he crawls under the stall door to be by the girls. He is covered in blood, but not his own blood; it is the blood of his younger brother who has been shot. These three students stand in the bathroom stall scared waiting for the shots to end. Finally they hear sirens and know they are safe. 
The movie is ninety-two minutes long, and while the most intense scene is the opening, the writers find so many ways to keep the story going. Each character has been changed from this shooting in different ways. Vada's best friend, Nick (Will Ropp), found a way to make this situation into a learning experience. He was always an upbeat guy, and now he does marches and campaigns to try to change this world and make sure this doesn't happen anywhere else. The boy who was hiding with Vada and Mia in the bathroom has seemed to come out of this situation calm. He has a different way of coping that isn't like most of the students. Vada, for insistence, has turned to drugs and drinking. Mia is also struggling with the same thing.
Students start to go back to school and try to go back to normal. It takes Vada and Mia a little longer to take that step and go back to school. Vada ends up meeting up with her classmate that lost his brother, and after that she realizes that if he is going to school after what he went through, she needs to go back. For Mia though she is having a really hard time making herself go back to school. Her dads gave her an option to do online schooling until she was ready. 
After a long day Vada texted Mia and never received a text back. She starts to get worried and finds a way into Mia's house and finds her passed out drunk in her sauna. This is when Vada noticed it's time for a change, and this one event she went through can't ruin her life.
In the final scene of the movie, Vada starts to deal with her trauma in a healthy way. She finally talks with her family; she agrees to stop hiding secrets, and she is gonna start communicating with them better. Vada and Mia are still friends. Vada met up with her father she rarely sees and all the bottled up feelings are let out with a scream at a hilltop. The movie ends with the screen going white showing that Vada has reached a hopeful ending.  
"The Fallout movie" engages and embraces the fear of this generation. Many viewers may not relate to the movie, but the pervasive fear of what could happen is in the back of many students minds. These girls and students in the movie survived something unthinkable, but what comes after, the guilt of surviving and finding out how to cope with this new world, is something that takes time. Recovering from a trauma like this is something no one should have to go through but this movie shows how each person faced this hardship.