Baking up Treats
West Friends teams up with German Club to decorate cookies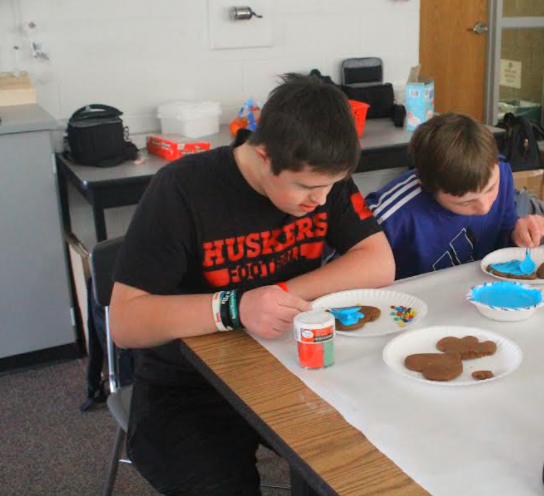 As the holidays approach, the season of giving comes to west friends and the German club as they gathered on Dec. 7 to decorate cookies. The students used their perfection and critique in designing the cookie. Students from the German club were there to help out the students from West Friends decorate their cookies with frosting sprinkles, gumdrops, and small candies.
To Prepare for this event, the German club had to prepare, we had the idea to collaborate with west friends, and we thought it would be fun to share a German tradition. We thought of gingerbread cookies and decided we could decorate them together. We found a recipe online and let the west friend's leader know what ingredients we needed and she got them for us. We then got together on November 24th and made the dough for the cookies, and the next morning we got together again and cut them out and baked them.
Although sophomore Nicklaus Wright was pumped and excited to decorate the cookies. At Christmas time his family decorates cookies that are the shapes of trees, stockings, and stars so this reminds him of what he does at Christmas.
"It's fun to make the cookies and decorate them since at Christmas time me and my mom bake cookies and decorate them", sophomore Nicklaus Wright said. "Designing the cookie was amazing. I decorated mine with blue frosting, having Will Stoneburner by my side and helping me think of a design for my cookie as he was helping me out decorating my cookie was so cool. I wish we can do this again"
For Sophomore Nina Mills her cookie was inspired by her ancestry and Hawaiian Culture. When Nina was in Hawaii she always used to decorate cookies during the holidays. She enhanced her 2nd cookie with Hawaiian culture colors of light blue to represent the waves and oceans and green to represent the Hawaiian trees.
"I used blue frosting with sprinkles and some green frosting to represent Hawaiian colors", sophomore Nina Mills said. "When I was little I baked and designed cookies on Christmas, which is a tradition in Hawaii. I love to bake cookies and design them. The coolest part was that we also learned some German phrases like "Guten Tag" which means Good Day.
Overall Mar loved the cookies that were designed and decorated to the top. Mars' cookie was done exceptionally well with blue frosting and gumdrops perfectly aligned on his cookie. Mar had an artistic ability in designing his sweet treat.
For senior Izzy Brown, she helped out the west friends' students decorate their cookies. She also coated some of the cookies to make a green frosting cookie with red sprinkles dripped on top of the cookie. Izzy is a big part of a german club as a leader and a role model for her club.
"My favorite part was seeing everyone's creativity, It was fun to see how everyone used the different colors and decorations," senior Izzy Brown said. "Yes, I would love to see west friends do other activities. There are so many people that don't understand what west friends is all about or what they do. I think it would be fun for the kids to have different experiences too. I had so much fun helping out the kids in west friends. They had so much energy and seemed to love our activity. I also loved to see everyone's creativity and ideas for their cookies"
"It was fun and cool since I got to communicate with the fellow German Club students in case I needed help," senior Adam Mar said. "Decorating my cookie with all the colors of frosting I could choose from was awesome. I could decorate to my heart's content, I love that we got to decorate cookies and learn some German phrases. Expressing my ability to decorate my cookie with different colors of sprinkles and frosting that I can show off to my friends and family"
For senior Will Stoneburner, his excitement and enthusiasm were shown while he was decorating his cookie. Will used yellow and blue frosting for his 2nd cookie to represent the golden state warriors one of his favorite NBA teams.
"It was awesome to decorate the cookies with the German club students," senior Will Stoneburner said. "Since I love the Huskers colors I decorated my cookie with red frosting and red and white sprinkles which resemble Nebraska Husker Football which was my favorite part of the event we had in West Friends.
Danielle Anderson teacher for west friends was excited to see all of the students getting to decorate the cookies with the German club. As she was walking around the room she is filled with joy and happiness and she sees her students all happy to decorate a delicious treat to take home.
"It's the first club activity this year and it's awesome to incorporate the gingerbread houses as cookies as we would have done this year," Special Education teacher Dani. Anderson said. "We changed them this year and decorated the cookies in different ways. It's good for the other students to know what the other clubs here at Millard West are like so they can eventually join them this coming year and also how they can interact in the clubs and activities."
Picking the different cookie designs baked by the students of west friends, the certain frosting type and the color of the frosting, the certain amount of sprinkles to be sprinkled onto the cookie. All of the students of West Friends got help from some students from the german club all showing off their artistic skill in designing and decorating cookies. The involvement of the German Club students helping out the students were amazing helping them decorate and make their cookie the best it could be.
The west friends decorating cookies with the german club was a fast-paced event. West Friends in the future will be holding more events with other clubs to create designs and express their ideas.