A different approach to songwriting
Lana Del Ray's "Blue Banisters" is filled with emotion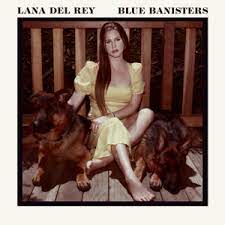 The ability to insert a great amount of passion into one's voice is something many musical artists lack, but for singer Lana Del Ray, it comes naturally. Her recent R&B album, "Blue Banisters," may be the artist's most emotional one yet.
On Oct. 22, Del Ray's eighth studio album was released. Consisting of 15 songs, "Blue Banisters" was produced by Del Ray, Zachary Dawes and several others. Despite the artist's past success, her latest album got off to a rocky start. "Blue Banisters" landed at number eight on the Billboard 200, the first of Del Ray's albums to miss the top five. The album received mixed reviews from critics. While many praised Del Ray's introspective songwriting, others deprecated the album's familiar themes and monotonous sounds. 
In the decade since her major-label debut album, "Born to Die," Del Ray's passing controversies have had many take for granted her steady evolution as an artist. Although I don't agree with many of the artist's personal decisions, I think "Blue Banisters" is a sweeping survey of Del Ray's talent as a songwriter. From "Textbook" to "Sweet Carolina," the album offers a large selection of songs that vary in genre and length.
In many ways, this album contrasts largely with Del Ray's previous ones. As many parts of "Blue Banisters" are centered around the 2020 pandemic, the album is extremely relatable and therefore engaging to listeners. "Blue Banisters" is stripped of the aesthetic borders Del Ray often places around her work and morphed into raw emotion. Dysfunctional love and other dark themes are replaced with Zoom calls and trips to Target. 
The arguably most catchy song on the album, "Arcadia" idealizes living in California, more specifically a city within Los Angeles called "Arcadia." On the surface, the lyrics may be confusing to many listeners. Having a very successful career and therefore being able to travel wherever Del Ray pleases, why doesn't she travel to Arcadia? However, by reading between the lines, listeners can discover that the lyrics may represent something else entirely. What the artist is more pointedly alluding to, as revealed in the outro, is the concept of getting away from American society. The ability to intertwine a deeper meaning into seemingly shallow lyrics is important to possess as a musical artist, and I think that Del Ray is highly skilled at it.
Midway through the album is "Dealer," a song that contrasts greatly with Del Ray's previous songs. For a variety of reasons, "Dealer" is my personal favorite on the album. The song features vocals by Miles Kane, who sings both verses, while Del Ray sings the chorus. As for the lyrical meaning, "Dealer" is mainly centered around the feeling of loneliness and isolation. In the first two verses by Miles Kane, the singer talks about disconnection from society, including those who are close to him. The raw emotion in this song and heartfelt lyrics stood out to me, and I think "Dealer" exemplifies Del Ray's range perfectly.
Although "Black Bathing Suit," the fifth song on the album, received overwhelmingly positive reviews from critics, I found it extremely mediocre. The song touches on a variety of topics, such as love, heartbreak and the pandemic in 2020. The lyrics were hard to make sense of, and therefore it was difficult to connect with the song. Additionally, the rhythm felt slightly offbeat, lacking the catchiness that many other of Del Ray's songs have. Overall, this song felt all over the place and possessed a similar monotonous sound to some of the artist's other songs.
Though some songs on "Blue Banisters" were very impressive, many like "Beautiful" and "Violets for Roses" lacked originality. They seemed to blend into one another, possessing the same monotonous vocals and lacking a captivating beat. Nevertheless, I believe this album is a prime example of Del Ray's evolution as a musical artist and will be looking for her next album in 2022.