Ride or die
Motorcycles are becoming popular among students
Students around the school have been zooming through the streets on motorized vehicles such as groms, dirt bikes, and sports bikes.
It's the thrill of the speed and the wind running through their hair that reminds them of freedom and gives them the passion to ride. Learning tricks such as wheelies and stunting out their bikes to their full potential is just part of their passion for riding. Some people might say it is dangerous and that no high school student should be partaking in such activities, but others say it is all-inclusive and that everyone can ride with anyone.
"Motorcycle culture is just like a way to get around and something you just love to do," junior Jake Kirk said. "You'll get a car to go somewhere you need to go, but you could take a bike there and enjoy the way there a little more."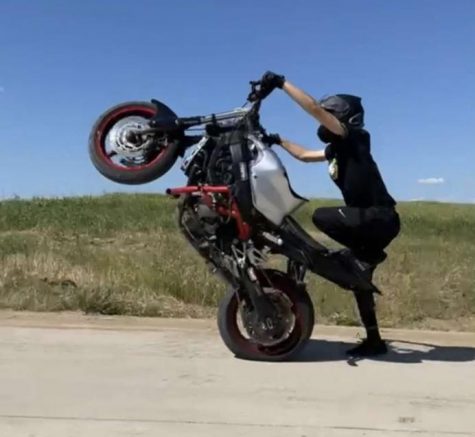 CC refers to the different-sized motors available for bikes. There are many differences between a 125cc grom v.s. a 1300cc sportbike that could potentially flip when reaching top speeds. The basic rundown of it is a 125cc will be a smaller engine, have a top speed of around 60mph when doing downhill, and can go up to 15 mph in 1st gear. A 300cc bike will have a bigger engine, top out at about 120 mph downhill, and can go about 40 mph in 1st gear.
"I got into riding because my friends rode so I was like, ight, I'll get a bike too," senior Zach Towne said. "If you're starting to ride it really depends if you have experience riding dirt bikes or with anything. If you got experience on a 250cc, then you're definitely chillin' to start on a 600cc but like you just gotta respect the machine, obviously. But if not, if you want to go straight to a sportbike, you can get anything from a 250cc to a 500cc, they're not very much different but it's just like a lower-class sportbike. It's still a sportbike, sort of, but it's not going to be insanely fast. The top speed is like 125 mph downhill and you have to be pushing it. But yeah it's definitely a lot easier to start on and like to help you get used to riding on the roads."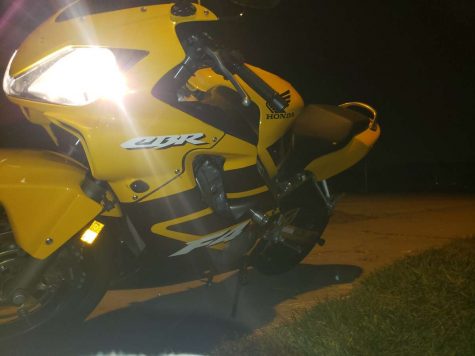 Many have been riding for years and have learned all of what they know now because of their elders, such as brothers and other riders. But everyone has to start somewhere, and now that these riders know what they are doing, they help out new riders on how to ride, what to ride and where to ride.
"Normally what I do when I'm looking for bikes like you could go to dealerships like Dillon Brothers or Dillon Brothers Harley, if you're into that stuff," Towne said. " You could go to Rikers, but Rikers is kinda trash though. You tryna go there, you're definitely gonna be spending a band for sure. If you want a reliable motorcycle, you can find so many motorcycles on Facebook marketplace and OfferUp, but mainly Facebook Marketplace. You just find them on there and for a decent price. Make sure everything's good, go look at it if you don't know what you're doing, bring someone that does and just talk him down a little bit and cop yourself a bike."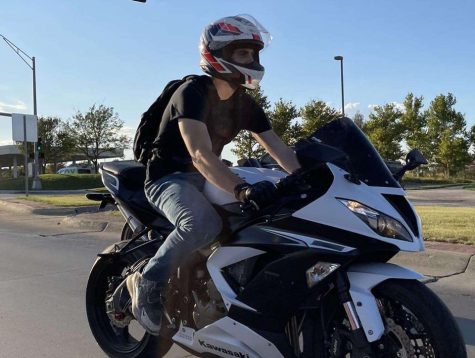 Being the most recommended in-person store, Dillon Brothers has a great reputation and pricing for what it has to offer. It is open from 10 am-6 pm and is located off of 168th and West Maple Road. It is perfect for all different styles of riding and has a rating of 4.6 stars on Google reviews.
"It's really like a connection with a bunch of people you don't know," junior Anthony Coleman said. "Basically, you don't need to know anyone that you see when you're on a motorcycle. You just see them on the road when you drive by and everyone is waving to each other, or if you see someone somewhere you just pull up right next to them and all you talk about is motorcycles because it's just an easy topic to get on. Everyone in the community is super nice and they are always linked together and it's dope."
Riding all different types of motorized vehicles can be dangerous when you don't know what you're doing. It's all about knowing your limits and learning from other riders to stay safe. So as these students continue to ride, they are spreading kindness and enjoying their last years of high school.