Rising to the top
A closer look at Olivia Rodrigo's debut album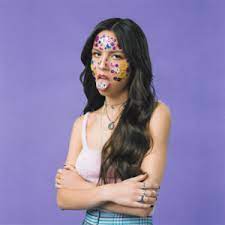 By now, you have likely heard the song "Driver's License" on the radio. Fast-rising artist Olivia Rodrigo recently created her first album, which can only be described as a rollercoaster of emotion.  From "Brutal" to "Happier", these songs will take you on a journey.
In the summer of 2021, Olivia Rodrigo's first album, "Sour", was released.  It was written by Rodrigo's producer, Dan Nigro, and herself during the COVID-19 lockdown of 2020. After the viral success of Rodrigo's hit single "Driver's License" in January 2021, Rodrigo and her producer decided to release an entire album. It was immediately a huge hit. Quickly following "Driver's License", "Good 4 U" and "Deja Vu" topped the charts.
The album starts off with "Brutal", which touches over many genres, including alternative-rock, grunge and pop-punk tones. Although this song isn't the most popular on the album, it is one of my favorites. "Brutal" consists of brash electric guitars and drums, and a captivating beat. The lyrics express Rodrigo's worries, fears and frustrations as a teenager entering adulthood. This addictive song will be stuck in your head for weeks. 
A prominent reason for Rodrigo's success was the variety of genres throughout her album, which brought in millions of listeners. Spanning from 1990's inspired guitar rock to acoustic ballads driven by piano, Rodrigo's variety in her songs raked in an audience with different music tastes. This strategy is a very smart idea on Rodrigo's part. Many artists stick to one genre in their album, which narrows their audience to those who like that specific kind of music. In the "Sour" album, nearly every song is drastically different. The range that Rodrigo has is admirable, and a large reason why she became so popular. 
Tied with "Good 4 U", "Driver's license" is the number one most popular song on "Sour". In much contrast from "Brutal", this song is slower and more heartfelt. Filled with emotion, it became a fan favorite. The lyrics mainly focus on two subjects: a breakup, and a driver's license, as you likely could figure out from the title. As these two topics are common amongst teens, this song was the tear-jerker of the album. 
Rodrigo has the ability to turn emotions into words, and this shows through her lyrics. The subject matter of her album centers on breakups, heartache and adolescence. As a result, a lot of her listeners are in their youth. The normalcy of her songs caused many to realize that even though Rodrigo was a celebrity, she was dealing with the same things as they were. Fans felt connected to Rodrigo through her music, and this made them enjoy her songs more.
The second to last song on the album is "Favorite crime". Like many of the other songs in "Sour", it involves a past relationship. "Favorite crime" references how the way Rodrigo was treated was almost "criminal." The lyrics "all the things I did, just so I could call you mine" explain how Rodrigo gave everything she had, but the relationship still didn't work out in the end. The meaning behind the lyrics could be perceived in many different ways, and this is why I believe that "Favorite crime" is one of the most well-written songs on the album.
Like many other aspects of Rodrigo's album, the title has a deeper meaning behind it. Rodrigo describes "Sour" as relating to the "sour" emotions teens experience but often receive backlash for, such as jealousy, anger, and unhappiness. By making this her album title, Rodrigo wanted teens to know that these feelings are valid. 
Rodrigo's ability to mix a variety of emotions with different genres is impressive, especially for a first album. For different reasons, all of the songs on "Sour" are worth listening to. The lyrics in each are well-written and realistic. Rodrigo has a lot of natural talent, and I believe that her future songs will continue to top the charts. 
I definitely recommend "Sour" to those who haven't listened to it yet. If you enjoy varying kinds of pop, this album might be one worth trying.