Google Expedition Glasses
A new learning opportunity for students all over Millard
Hang on for a minute...we're trying to find some more stories you might like.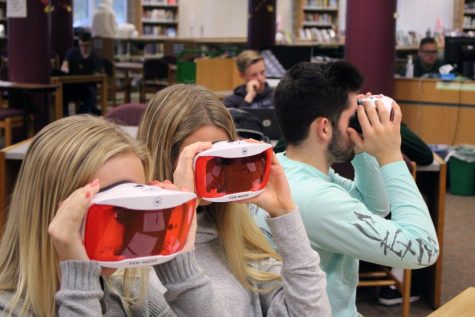 photo by Hillary Van Buren
Technology has been engraved into the minds of the students. As we enter into a new generation, educators are finding new ways to incorporate computers or phones into the daily lives of the students and their way of teaching.
Recently, schools have been transitioning into a new way of teaching that involves a lot of technology. Millard Public Schools invested in View-Master Virtual Reality goggles. They allow people to explore almost anywhere within seconds. Millard is taking advantage of the opportunity and using these goggles as a learning opportunity for students ranging from elementary school to high school.
Students got to experience the goggles in some of their classes. Math, Anatomy, History and some of the Special Education classes are using these glasses as another way to learn interactively.
"There isn't really a limitation on who can use them because this program has so many different places you can go and things you can do," Teacher Librarian Mindy Longe said.
These glasses have opened another window for more technology-based learning. They help the students because it is giving them something more tangible and fun to look at than a textbook in a classroom. Educators got to show their classes places that they wouldn't normally be able to go. For example, a class used the glasses to see a vietnam war sighting for their history class.
"My class enjoyed looking at sites of importance in World War II," social studies teacher Dana Blakely said. "It was a unique perspective that many hadn't had the chance to experience yet and we will be looking forward to more explorations."
They allow the students to get out of seats of a regular, old and boring classroom and into a new, more exciting and environment that encourages interactive learning.
"I love seeing the students use the glasses because it's fun to see them explore what the glasses do and what they have to offer," Longe said. "I can tell that the students love using the glasses and that this was a good investment."
Millard Public Schools owns five kits total. Each kit cost about 7,000 dollars. In the future Millard West wants to buy another set because the administration has seen very positive results from the students and teachers.
"We have had some teachers who really enjoyed using them," Assistant Principal Jennifer Allen said. "We have a teacher that would be willing to donate and help out."
The sets that Millard currently use the ASUS ZenFone 2 as the smart device, but the glasses are compatible with almost any smart phone. So, the students would be able to put their own phone into the glasses making the cost of the product a lot cheaper.
All the glasses are controlled by an iPad. It can access where you go, what you learn and what you can see. In order to use the glasses you have to have the free app downloaded on the smartphone device.
Millard is taking the opportunity to walk through the window of technology by investing in products that have the potential to evolve the way teachers teach and the way students learn.