The Mitchells made my day
New Netflix family film inspires togetherness, love and fun times abound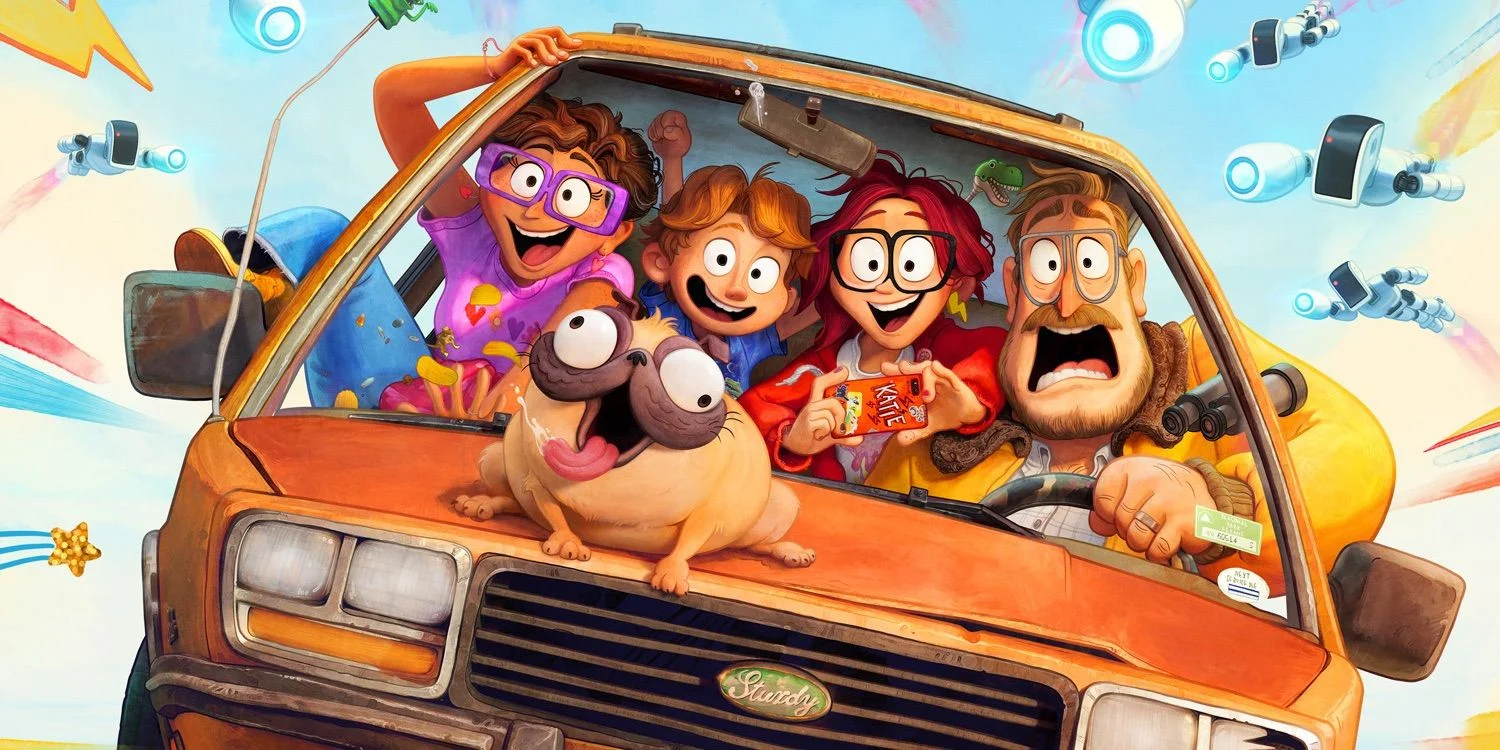 Everybody loves a good coming of age story, but when you flip said story on its head, mix in some family bonding, crazy robo-fighting and the most fantastically bright and colorful animation — that's where the real movie magic begins. 
Director Michael Rianda and producing duo Phil Lord and Christopher Miller absolutely knocked it out of the park with their animated family film "The Mitchells vs the Machines." With resumes including "Spider-Man: Into the Spider-Verse," "The Lego Movie" and "Cloudy with A Chance of Meatballs," I expected nothing less than perfection. The movie has experienced endless praise since its release to Netflix on April 30, racking up 97% on Rotten Tomatoes and almost an 8/10 on IMDb.
So what's all the rave about?
The Mitchells are the ultimate dysfunctional family: while Katie (Abbi Jacobson) can't wait to get away to film school in California, her outdoorsy, handyman-of-a-father Rick (Danny McBride) doesn't quite see how her bizarre home videos — adorned with bright, meme-like graphics — could be successful. But, begrudgingly, Rick sees how determined Katie is to go to film school and hopes to make somewhat of amends before she is gone, putting together a last-minute road trip on their way to Katie's college. Katie, Rick, mom Linda (Maya Rudolph), little brother Aaron (Michael Rianda) and the lovable cross-eyed pug Monchi buckle up for what will be the ride of a lifetime.
Shortly into their trip, tech-loving Katie watches a live-streamed announcement from Mark Bowman (Eric Andre), the CEO of a phone and technology company called Pal. On each phone, there is a virtual assistant (pretty much the Siri of our world) named Pal, who seems to have formed a really deep and "human" connection with Bowman. Yet, when Bowman goes out on stage for his big announcement, he makes it abundantly clear that what he has in store is so much better than any current innovation like Pal— it's the Pal Max, a life-sized, personal assistant robot that can do anything you ask. 
Pal ends up extremely hurt by Bowman's betrayal; before Bowman can even end his speech, Pal has started her attack on the human world. She makes the Pal Maxes her minions and gets them to rope up every human they can find for "containment," which really ends up being a one-ticket trip to the black abyss of space, courtesy of the aptly-named travel company Foolish Human Air.
All but one family remains: the Mitchells. With the help of two defective Pal Maxes named Eric (Beck Bennett) and Deborahbot 5000 (Fred Armisen), they set off to install the kill code on all the robots, stop Pal and save humanity. Along the way, they'll have to defeat evil Furbies, demonic household appliances and aggressive bots.
Sure, it seems a little out there (and it is), but it's a movie the whole family can enjoy. The bright colors and fresh, stylized animation will catch the kids' attention and parents can laugh at the jokes or even get emotional at the thought of their children leaving the nest. As a soon-to-be grad myself, the ode to loving what you have when you have it and remembering where you come from struck me with bittersweet relatability.
I also loved that the filmmakers were not scared to make a queer person the star of the film. They didn't make it her whole character but rather included a rainbow pin on her outfit and had rainbows as a prominent recurring graphic. Of course, rainbows don't make something or someone automatically queer, but at the end of the movie, in a sort-of "flash forward" moment, Linda asked if Katie and another girl at her film school had "made it official." Hats off to "The Mitchells vs the Machines" crew for going somewhere almost no animated American film has ever gone before.
I can't forget about the voice acting as well, especially with such a talented cast. Maya Rudolph was the perfect voice for the powerhouse mom Linda turns out to be, and it was cool to recognize the Teigen-Legend couple as the voices behind the "perfect" Posey family Linda compared the Mitchell family to. I thought, however, that the voice of little brother Aaron was off, and after discovering Rianda himself voiced the character, I wonder if he was the wrong guy for the part or simply lacks experience. The movie was also not too sharp on the technicality of matching the mouth movements of the characters to the words that came out of their mouths. It was a bummer but one I could overlook.
Of course, the humor tied this film together. From harrowing yet wacky situations (re: evil Furbies) and Linda in beast mode to comic meme moments and a 2000s throwback soundtrack, this movie had it all."The Mitchells vs the Machines" truly exceeded my expectations; I will happily rewatch this movie anytime and enjoy its fresh take on animation, inclusivity and what it means to be a family.