One piece at a time
Two clubs help celebrate Earth Day at Millard West
On Wednesday, April 28, Millard West Key Club and Justice and Diversity League partnered up to celebrate Earth Day by cleaning up trash and litter around the campus. Students from both clubs showed their appreciation for nature while doing something positive for the school.
Earth Day, celebrated annually on April 22, is a day to celebrate the beauty of nature and also to demonstrate support for environmental protection. 
The two groups joined forces to take on the task of cleaning up the campus. The clubs have worked together in the past on many different service projects and thought that this would be the perfect opportunity to come together again. This clean-up was a great chance for club members to get volunteer hours while doing something positive for the school. 
"We thought this would be a great way to show our appreciation for the earth while keeping the school clean," junior and Key Club member Mason Klein said. "Nature provides so much for us, and it's important that we do what we can to take care of it." 
The event didn't take much planning- students found a day they could all work together and collected the supplies needed: gloves and garbage bags.
During the clean-up, club members split into two groups and spent the time walking around campus and picking up any litter they found. They picked up litter in the parking lots and around the perimeter of the building. Showing appreciation for the planet is important now more than ever, and while picking up trash at school may not seem like much, the event had a positive impact on the school and environment. 
"It's important to celebrate and observe Earth Month and Earth Day because human beings are really starting to run out of time to reverse the damage that's been done to our environment over the last couple of centuries of industrialization," Justice and Diversity League sponsor Bryant Bull said. "It's now or never. The warnings have existed for decades, and still, we hear people arguing over whether we should do anything to preserve our environment. Making our world a better, healthier place can begin with a concern for our natural world."
Justice and Diversity League and Key Club want to use the campus clean-up as a way to influence other students. The clubs hope that other students will start to be conscious of their impact on the environment and take extra steps to keep the area around the building clean. The pick-up was an excellent reminder to club members and other students to respect the environment and the school by throwing away trash, instead of leaving it outside of the building.
"This will benefit Millard West because it will make our campus look a lot more presentable, and I think it is an influential activity," junior and Justice and Diversity League member Taytem Carmichael said. "We want our school to look nice and if there is trash laying everywhere that doesn't really help with that. I also think that a clean campus would influence kids to keep it clean and not litter. If kids see people going out of their way to pick up the trash that they threw on the ground, it might make them rethink their decisions."
This campus clean-up was an excellent way to celebrate Earth Day, and a reminder to all students to not only take care of Millard West but all of our planet. 
About the Writer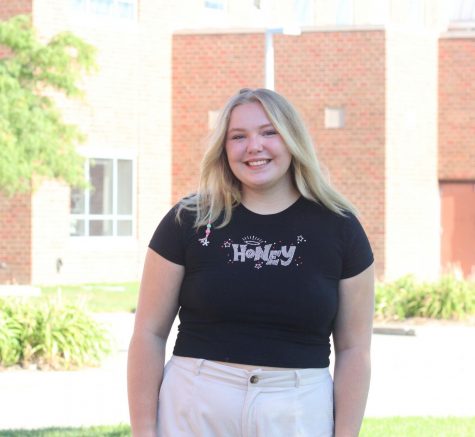 Annabelle Harshbarger, Online Editor
Annabelle is a senior and is returning for her third year on the CATalyst staff. She enjoys writing opinion and news stories as well as filming and editing...