Lil Tjay's destiny isn't winning
New York rapper disappoints on his newest album
I first heard Lil Tjay in my sophomore year, with songs like "Leaked" and "Resumé" remaining some of my favorite songs to this day. After 2019's successful "True 2 Myself" and 2020's "State of Emergency," Tjay is back with his newest project, an 18 song album titled "Destined 2 Win." While having some solid songs throughout his young career, Tjay has yet to drop that signature tape, something that has extensive amounts of replay value from front to back. It's safe to say that he's going to remain searching for that album.
The album opens up with the title track "Destined 2 Win." It's a short minute, leading into the true intro of the album, "Calling My Phone" with 6LACK. A song that was popularized through a snippet on Tiktok, it's arguably the best song on the album. It's a slow, true to the heart track featuring one of the best R&B artists in the music industry. The next song is another one of the best songs on the album, "Headshot" featuring Fivio Foreign and Polo G. It's a hard, grimy track that shows the other, less heartfelt side of Tjay.
"Run It Up" is when things start to trend downward on the album. Aside from a solid feature from Moneybagg Yo, it's when Tjay starts to return to his generic ways, using a basic trap beat with the same heavily tuned hooks as usual. "Irregular Love" and "Slow Down" continue bringing the album down, feeling like the same love songs we've seen Tjay right on his earlier projects. 
He comes back with a solid song with "Part of the Plan." Talking about being set up by those he thought were his brothers, Tjay practically proclaims his desire to roll on his own and keeping his circle small. He keeps a solid flow, and it's a breath of fresh air before the failed pop hit attempt "Move" with Saweetie and Tyga. It's just an obvious attempt at creating a song to go on the radio, and is a perfect example of what has changed Tjay since his come up year of 2017.
It's followed by "Oh Well," another solid track, but it's just so obvious that he doesn't want to leave his comfort zone. Tjay continues to replicate the same beats and the same style. It has been incredibly repetitive for the last two years, let alone on this hour long album. It's followed by another boring song, "Love Hurts" with Toosii. Toosii provides some alright vocals, but the song drags on for way longer than it needed to be.
"Go Crazy" is what I want to hear more of from Tjay. With a more unique beat, his words spoke louder than usual on this song, where he marks his territory in believing he's one of the best rappers out there right now. It's a super confident track and exactly what he needs to do more of. The following song is another short 90 second track, "Nuf Said." Although it's a solid short song, it's reminiscent of the New York style paved by A Boogie Wit Da Hoodie, and at points on the album it seems as if Tjay is just stealing from Boogie's playbook.
"No Cap" isn't necessarily a terrible song, but I truly wonder how it made the cut for the album. It's a poorly mixed song, and the vocals are surprisingly quiet. It sounds like a rushed, last minute addition to the album for filler. "Born 2 Great" is a track of reflection. Talking about the transition from high school to the music industry, it's a meaningful song from Tjay, and one of the best on the project. He didn't need any features on this track, and it serves as a small peek into the growth from him.
"Hood Rich" is a slower track. Despite the trap beat, it feels like he's just mumbling over the track at times, sounding like he threw R&B vocals onto a trap song. It wasn't awful, but just so forgettable like most of the album. "What You Wanna Do" is probably the worst song on the album. It has the worst hook, and although the verses aren't too bad, the terrible hook mixed with the weird beat choice just makes the song unnecessarily awkward. It just makes no sense to listen to, taking the listeners into "Life Changed." It's another song where he opens up about how his life has changed since blowing up as a rapper. It's backed by a generic trap beat, and I'm not a big fan of Tjay's vocals on the track. 
Finally, the outro "Gang Gang." Another average song, it still stands out on the album. The drill voice that Tjay portrays on it gives the listener the opposite mood they had when they started listening. The biggest problem is I didn't want to be listening by that point in the album.
It bites listening to this album knowing what Tjay has been capable of in the past. This album wasn't as bad as it was just boring. He has a few solid songs on this album, but it's just too long and slow to be a great album. It's a 3/10 and I probably won't re listen to the project again. Hopefully Lil Tjay can find that 2018 spark he had and return to his former glory.
About the Contributor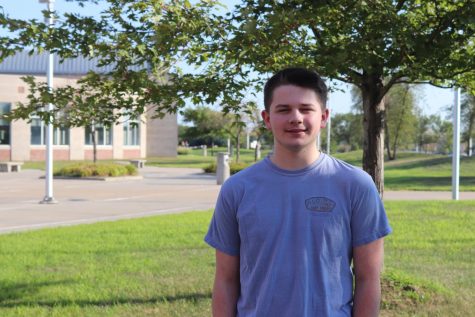 Carson Fox, Staff Reporter
Carson is a senior in his second year of journalism. He is a huge sports fan and loves keeping up with them. In his free time, he likes to hang out with...