Treats worth tasting
Zen Coffee Company establishes their residency in West Omaha with a bang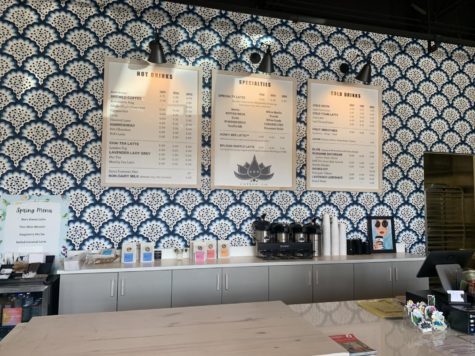 As summer approaches and study season peaks, finding a calming cafe with appetizing coffee to spend hours at has been a goal of mine throughout the semester. Luckily for me, the buzz about Zen Coffee Company caught the attention of myself and my fellow Nebraskans with a craving for coffee.
 Omaha-based Zen Coffee opened a second location Northwest of 132nd and Center. With a focus on sustainability and connecting the community through their coffee, it has become a hotspot for coffee-lovers.  
Upon arrival, I was greeted by a strip mall with a small coffee shop sitting on the corner. Already bustling with activity at 11 a.m., seats well spaced out and filled outside and inside as people followed restrictions due to COVID-19. 
I walked inside the cozy cafe decorated with an abundance of plants. The strong aroma of coffee and baked goods lingered in the air while I patiently waited to order my drink. The menu had a variety of drinks including smoothies, lattes, teas and other hot drinks with the addition of baked goods like scones. I ended up ordering a 16-ounce tuxedo latte and a strawberry scone that was calling my name from the display case. 
With surprisingly fast service, I received my latte and scone and sat down at the neatly decorated tables. The tuxedo latte, which is a combination of white mocha and regular mocha with espresso and milk, was a delicious surprise. 
In the latte, the mocha was extremely rich and complimented the slight bitterness of the espresso which was all balanced out by the creamy milk. After a couple of sips, I decided that the $6.00 I paid for the latte was completely worth it. 
Adding to the experience even more, the scone was otherworldly. Scones I have had in the past have been hard and lacked overall flavor, but Zen Coffee doesn't make this mistake. The small business has the fluffiest scones I have ever had. The juicy strawberries and the sweet frosting worked with the bread of the pastry to create a delicious snack as you enjoy your coffee. The fresh-out-of-the-oven scone was $4.00 and definitely something customers need to try when visiting the small business. 
Along with typical coffee (which already is a spectacular contender for the shop), Zen Coffee Company offers seasonal and specialty drinks out of the norm. Some items that caught my eye included a Lavender Lemonade, a Harry Potter-inspired Butterbeer, Honey Bee Latte and a Belgian Waffle Latte that includes a mini-Belgian waffle on top. These specialty lattes definitely attracted my attention and pushed me to want to return to try these specialties.
Along with unique drinks, the small business also offers unique experiences. Zen Coffee has an option for coffee flights, which samples four drinks on their menus for the starting price of $20.00. This fun addition to their not-so-typical coffee shop attracts many coffee addicts and people wanting to experience their menu to the fullest extent in one sitting.
The environment of the coffee shop definitely added to the experience of tasting their delicious drinks and pastries. Zen Coffee will definitely stay at the top of the list whenever I am craving a familiar latte or a new and exciting specialty drink. 4/5 stars