Strutting into spring style
Seniors model for Omaha Fashion Week
Instagram isn't the only place where students model their outfits. A few Millard West seniors strut the runway of Omaha Fashion Week instead — the largest fashion show in the Midwest.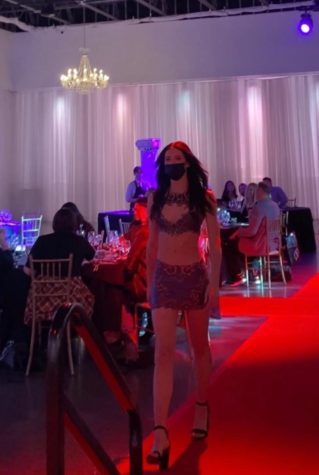 Omaha Fashion Week occurs every fall and spring for young designers to showcase their work. Usually around 65 designers participate in the event, however only a few could participate this past week due to COVID restrictions. Normally, tickets to attend are open to the public, but the Spring 2021 event was private with less than 200 people in attendance both nights. Nevertheless, the models made their way down the runway for the limited audience. 
"I signed up for Fashion Week when I saw the opportunity in a Facebook group chat," senior Paige Stobbe said. "I thought it wouldn't hurt to apply, and I didn't even know I would make it, but I got accepted to model in the event very quickly."
Stobbe works with a modeling agency called Develop Model Management Company. This company helps models to branch into other markets and help get models started on their career path. Like Stobbe, senior Sam Falter is also involved in the agency and walked in Omaha Fashion Week. Because there are many models, Stobbe and Falter only walked a few times.  
"I've walked in five fashion weeks in the last three years," Falter said. "I get excited for it just like I would before a football game. The best part is meeting new and interesting people and learning their styles." 
The nerves and excitement are mixed for the models before they walk. From looking perfect to not tripping, it is important the models are well prepared for their appearance in new designer pieces. 
"The day I walked was a pretty normal day," Stobbe said. "I came home from school, took a shower, did my hair and makeup and then headed to Omaha Design Center. We then meet with our designers, and they assign us an outfit. Then, we touch up and walk.
Likewise, Falter also has a routine before he models. 
"A typical day usually consists of sleep because sleep is really important," Falter said. "Then, I eat right and get some exercise depending on the day's schedule. For guys, it's pretty simple. I just have to make sure my skin is clear, and my hair is fixed."
Due to the audience limited to invite only, the seating was mainly composed of important fashion influencers in the Omaha industry. Senior Lily Dame was lucky enough to nab one of these seats. 
"I attended because my boyfriend Sam Falter walked in it," Dame said. "I love to go because I love fashion, and I love getting to watch people I know walk the runway. It's cool because when you think of models, you think of super famous ones, but they are people I know."
Falter's mom has worked for Omaha Fashion Week for a long time, and Dame was able to sit at their table. Usually, there are seats to just sit and watch, but instead, there were about 20 tables which seat eight people so invitees could eat their six course gourmet dinner catered by West Main Catering. The courses included scallops and lobster risotto, octopus ceviche, roasted duck, braised wagyu beef, chocolate marquis and carrot cake. 
A wide variety of outfits are shown off at the show, and many are made of unique materials not sewn from fabric or thread. Stobbe sported a purple spandex goddess esc two piece set. Because Falter has participated in multiple fashion weeks, his outfits have been across the board. During the private spring event he modeled a camo military jacket and green top. 
"Fashion week's biggest benefit is definitely the networking," Falter said. "I have met many important figures and cool people through fashion week. It's also great because I get to help the designers showcase their art." 
Besides wearing anything from current fashion trends to wearing things looking animal-like, both Stobbe and Falter have bigger takeaways from modeling than ways to strut on the runway. 
"I do hope modeling can take me somewhere," Stobbe said. "I want to work in fashion and design in the future, so I'm hoping that modeling can give me some connections that will help me later on."
Omaha Fashion Week plans to have a full fashion week and return to their normal amount of designers and audience for their fall show which is scheduled for August 27- August 29, where more models and designers will return to showcase new pieces.
About the Contributor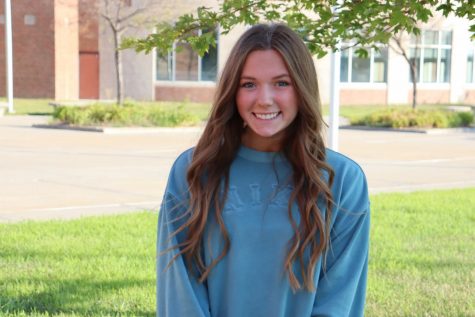 Jenna Reynolds, Features Editor, co-anchor MWHS Wildcat News
Jenna is a senior at Millard West and this is her second year on the Advanced Journalism staff. Her favorite part of Journalism is filming and editing...