Wildcat Wanders: Nightlife and Dining in the Blackstone District
When discovering new corners of Omaha, the Dodge expressway will become any explorers' new best friend. This road takes drivers from 204th to the heart of downtown Omaha and beyond in as little as half an hour. Along the way, the Blackstone District, just off of 42nd and Farnam, features a lively area on weekdays and weekends alike. Although the region is geared towards those 21 and over, the District is still home to delicious dining and special shops for high schoolers to explore. From pizza, to gyros, to meatballs, a night in Blackstone will never leave anyone hungry or bored.
Noli's Pizzeria, a personal favorite, serves New York style, customizable pizza by the slice or by the pie. The quaint atmosphere creates a perfect aesthetic, with crumbling brick walls, single hanging light bulbs and chalkboard menus. Their wide range of toppings present classics in addition to more exotic choices, like grey plume salami, kalamata olives and goat cheese. The menu also presents specialty pies like the DiManzo: featuring filet mignon, gorgonzola sauce and portobello — a very unique take on traditional greasy pizza. Including vegan and gluten free options makes this restaurant readily available to anyone.
The district also highlights a one of a kind Omahan restaurant: The Blackstone Meatball. True to it's name, this establishment specializes in hand crafted spheres of meat —  including chicken, beef, pork and vegetarian options. These mouth-watering bites are served over waffle fries, pasta or even roasted vegetables. With a motto like "Not your mama's meatball,"  this restaurant is truly a fun and different choice with a modern atmosphere.
The other side of Farnam Street houses one of the highest regarded restaurants of it's kind in the Omaha metro area — Mula's Mexican Kitchen. The hipster atmosphere, urban rap music and delicious food is notable throughout its reviews. This restaurant features traditional Mexican street food: including various kinds of guacamole and salsa to accompany their amazing tacos, tortas and more. Their food is regarded as fresh and distinct, with praise especially dedicated to their street corn and sopapillas.
A sweet treat is often necessary to balance the savory meatballs and pizza native to this district. The Coneflower Creamery and all of their customers idolize the fresh and local ingredients used in the creation of their ice cream. Every item is handcrafted in their own kitchen — even the sprinkles. In addition to their classic and signature flavors, the creamery produces a flavor unique to the district, butterbrickle, first introduced in the 1920s by the Blackstone Hotel. One can hardly ever go wrong with ice cream, especially from this charming local establishment.
Other notable dining locations within the district include Feta's Greek Restaurant, Stirnella, Crescent Moon, Nite Owl and Archetype Coffee. Each establishment deserves pages of commendation, but some of the discovery must be left to the reader.
Beyond restaurants, the Blackstone District is home to many noteworthy boutiques and music shops. The musicians in Omaha feel right at home at the Groundfloor Guitar. Almost Music offers hundreds of vintage vinyls and local releases, and even offers small scale performances. The Pulp Boutique, a certified paperie, sells everything from sustainable hand soaps to professional invitations.
For a more relaxing, yet energetic activity, Pranam Yoga studio offers alignment-centered classes on a donation basis. Come as you are, pay what you can, is the motto of this heartfelt establishment.
The variety of activities in this location offer endless opportunities for weekend visits — Friday nights at Noli's, Saturday mornings at Pranam Yoga, and Sunday afternoons at Archetype Coffee are only one possibility.
The Blackstone District is an up and coming area of Omaha that is full of character and diversity. Dining and nightlife are the definition of this lively district. Unfortunately, one can hardly come close to describing it in it's full glory. Omahans and tourists alike must experience the dynamic streets of restaurants and boutiques for themselves.
Although the parking situation is undoubtedly difficult, the effort is well worth it. Take a trip to Blackstone this weekend, for nothing but an original, vibrant experience that you'll never forget.  
About the Contributor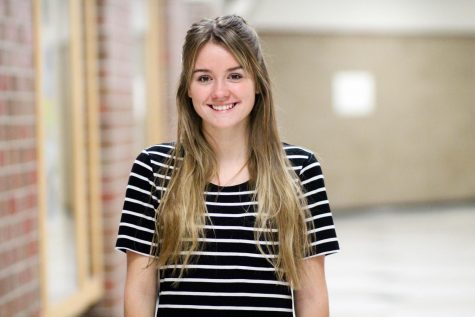 Madelyn Anderson, Opinions Editor
Madelyn is starting her final year at Millard West. This is her first year in journalism and she enjoys writing opinion and feature stories. Madelyn is...