Raising the bar
A junior with a passion for powerlifting
While many students may enjoy lifting weights as a fun way to stay fit, junior Peyton Busteed has taken it to the next extreme. Busteed started powerlifting two years ago and continues to work and gain skills in her sport. 
Busteeds powerlifting career started with her father, Bryan Busteed, who coaches at both Omaha South and Midland University, encouraging her to join the sport. She now practices three times a week at Omaha Barbell with her father. Each day that she attends the gym she focuses on a different lift; squat, deadlift or bench. Outside of the gym, she has to focus on her mental and physical health as well, to ensure that she can perform to the best of her ability and get the most out of her practices.
"When I go to the gym I have to make sure that I am focused and ready to work," Busteed said. "This is really important to me because it helps me perform to the best of my ability at meets."
Busteed is currently working towards competing in the High School Nationals in Aurora, Colorado, this spring. She has recently started a new training program that she and her father hope will put her over the edge to compete at the national level. Busteed has also been working with a nutritionist to ensure that she is able to perform at her absolute best. Due to  COVID-19, Busteed was unable to attend the national meet in 2019, and she looks forward to competing at such an important event for the first time. 
"I was supposed to go to Nationals last year, but with covid-19 I was unable to attend leaving me really disappointed," Busteed said. "I am super excited to go this year and see what the atmosphere is like at a big meet like that. I am used to going to the smaller meets that the high schools in Omaha put on, but these ones have a lot more lifters and competition."
 This past year Busteed has advanced greatly in the sport. She can now lift a total of 855 lbs. At last year's state meet, she won first place in her weight class and was awarded best female lifter. She has begun to put more time and effort into her sport and she and her father have high hopes for the future. 
"In the past year, I've seen Peyton improve with technique in all three lifts and in strength," Bryan Busteed said. "In the future I want her to keep setting personal records in the total amounts she can lift, and place in the top five at the High School Nationals this year." 
More recently, Busteed competed in the Sioux Falls Empire Open meet in Sioux Falls, South Dakota. She placed first in her weight class and also broke the 69-kilogram team two squat state record lifting 347 lbs. Along with her father, Vince Huerta, a sophomore on the Midland University powerlifting team coached her at this meet. Huerta was there to offer Busteed support and advice on how to perform her best at the meet.
"At the meet, I helped Peyton with her squat suit and knee wraps. Huerta said. "I was also working with her in the gym beforehand. I wasn't there to be her coach but instead, offer her as much help and support as possible."
Busteed hopes to continue her powerlifting career at Midland University after high school and has a bright future ahead of her. For now, she is preparing for Nationals and continuing to gain strength and confidence doing the thing she loves most.
About the Writer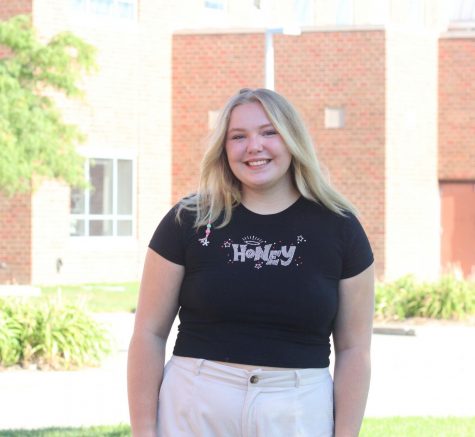 Annabelle Harshbarger, Online Editor
Annabelle is a senior and is returning for her third year on the CATalyst staff. She enjoys writing opinion and news stories as well as filming and editing...