Wildcats go crazy at State
Millard West goes 1-1 in the State Tournament in one of the best years in the history of the team
The varsity basketball team hadn't had a state appearance since 2016. That all changed though when the Wildcats completed a huge upset over Westside in the Class A-7 District Finals. Millard West then earned their spot to compete against seven other schools at Pinnacle Bank Arena in Lincoln with a chance to win the State Championship. 
Millard West finished the regular season 17-5. A key contributor coming back for the Wildcats was senior Evan Meyersick. He hadn't played in a game since Feb. 20, and was hungry to get back with the team and help them win a title. 
The Wildcats would first face off against Lincoln Pius X. Pius was 18-3 on the year and had a dangerous shooting combo with senior brothers Sam and Charlie Hoiberg. The Thunderbolts only had played two top 10 teams coming into this matchup, losing to Lincoln East twice. Pius had the four seed, and Millard West had the five. 
"We try to tell the kids it's a game like any other game," head coach William Morrison said. "We prepare the same as we always did, but you can't really prepare for it if you haven't been there because you can't simulate the crowd or the shooting because of how big the arena is."
The first half of this March 9 matchup at Pinnacle Bank Arena was very defensive with both offenses struggling from the field. Both teams committed rare turnovers for them which was a big deciding factor in that first half. Millard West was able to go on a bit of a run to end the first half behind some big shots from senior Ryan Larsen and held a 22-15 lead. 
The second half of the game was more competitive full of high-energy plays. Both teams went back and forth with no one seeming to be able to gain an advantage. Going into the fourth quarter, Millard West had started to pull away behind more shots from Larsen and timely shots from Meyersick, who had struggled in the game up to this point, being a bit rusty in his first game back. The Wildcats had a six point advantage with just about two minutes left in the game, but due to some missed free throws from senior James Conway and junior Chase Hultman, Pius was able to stay in it. Conway missed a free throw which would've given the Wildcats a four point advantage with only 15 seconds left. The Thunderbolts then charged down the court and Sam Hoiberg made a wide open three to tie the game at 45 with only 3.8 seconds left. 
"We couldn't get too high when they did something good, and we couldn't get too low when they made runs on us," senior Dominic Humm said. "They're a really aggressive team on defense, and we knew that we would have to stay composed."
Then, the unthinkable happened.
With just over three seconds left in the game, Conway heaved a half court pass to Meyersick who turned around, tripped but threw up a shot and it went off the glass as time expired. Millard West rushed the court and the student section went nuts as Meyersick had sent the Wildcats to the semi-finals for the first time in 21 years off of a buzzer beater. 
"I trusted in myself, and I knew I couldn't let the team down," Meyersick said. "I didn't have the best game, but I made that layup when it counted. I lost my balance when I shot it, and I looked back up and saw it go through the net, and then I heard everyone scream, and it was just amazing."  
Larsen led the Wildcats in scoring with 17 while Conway had another double double with 10 points and 10 rebounds. For Pius, the Hoiberg brothers combined for 23 points in the defeat. With the win, the Wildcats then moved on to play the #1 ranked Millard North Mustangs. 
These two teams had met earlier in the season, resulting in a 60-45 Mustang victory. The Wildcats had been right in that game though, and they were confident that if they slowed the pace down and played their kind of game, then they could compete with these guys. 
The Wildcats started out the first quarter hot, going toe to toe with Millard North. Meyersick made some big energy shots in the paint, and senior Dustin Hatch sank a three to help West have it tied 12-12 after one. Senior Saint Thomas erupted in the second quarter, though, sinking three three's in the quarter to help the Mustangs outscore the Wildcats by eight in the period, giving them a 31-23 halftime lead. 
Millard North committed turnovers early in the third quarter, which resulted in Millard West being able to close the gap behind some tough paint shots. West actually led 37-36 with 3:08 left in the quarter, but Thomas and the Mustangs erupted with a 11-0 run. Thomas scored nine of those points for Millard North putting them up by 10 points after the third. The big story of the fourth was free throw shooting. The Mustangs went 14-16 from the charity stripe in the final period, helping them close the game out. West was able to keep it close behind some three's from Larsen, but it wasn't enough, and Millard North held on to win 69-62. 
"They just played well at the end of the game," Humm said. "We tried to combat that run, but it was hard to come back down by 10 in the fourth to a team like that. It does feel great, though, knowing that we were there because they ended up winning the championship."
Larsen, Conway, Meyersick and Humm all finished with over 10 points for the Wildcats while Saint Thomas led all Mustang scorers with 26. Millard North advanced to play Bellevue West in the State Championship. Millard North won the game 84-78 and avenged their loss from last year. 
"You'll remember certain moments throughout the season, like the ending to the Pius game, the student section at the North game, but the kids will be what I always remember about this season," Morrison said. "They came to practice every day, and I seriously hardly ever yelled at them this year because of their effort. It was a group of kids that came to play basketball and work hard every day."
Millard West finished the year with a total record of 18-7. This was the farthest this team has gotten in a long time, and the Wildcats have many great memories from this season to look back on. As the starting five for the Wildcats graduate this year, they leave their legacy to next year's team that may look different but should possess the same determination.
About the Writer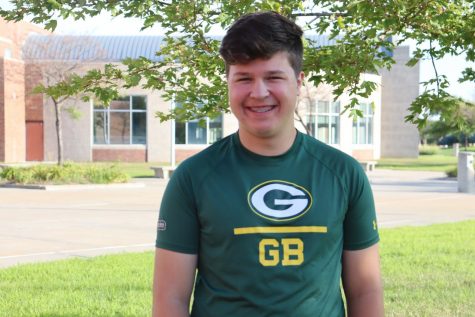 Jonathan Willis, Striv Executive Producer
Jon is a senior and this is his second year on the Catalyst staff. He loves sports and spends most of his time watching and studying them closely. He commentates...