Biden needs to push the envelope further
The President's first 50 days demonstrate his reluctance to fight for the American people
March 10 marked the half-way point for President Joseph R. Biden's first 100 days in office — a busy time for newly inaugurated presidents. The 46th President has started out with more than 50 executive orders, most of which aim to combat the economic troubles of the COVID-19 pandemic and reverse former President Donald J. Trump's policies.
Though Biden has made sure to enact a lot of legislation and policies early, I fear his reluctance to push conservative politicians. Submitting to bipartisan policy will ultimately leave America stuck in a centrist limbo.
Recently, Congress passed the $1.9 trillion COVID-19 relief bill but without a crucial item: a federal $15 minimum wage raise. Biden reportedly, via Politico, looks now to prepare for an economy without the wage increase after a meeting with Democratic and Republican Congress members. He urged those in the meeting to work toward a bipartisan solution, showing he does not understand many Republican lawmakers — and a few Democratic lawmakers — will not concede to economic proposals like this.
Republicans are not interested in providing economic relief for working citizens, evidenced by none of them voting for the previously mentioned relief bill. Despite the lack of wage increase, Biden's pursuit of the bill will help in the short term. Still, dropping it from the bill breaks his promise to the American people. Reportedly, Biden still plans to fight for the federal $15, but this lack of pressure on conservative lawmakers signifies the struggle to achieve this will be great.
As of late, Biden has earned much praise for his handling of the COVID-19 pandemic, especially with vaccine rollouts. Now by May 1, every adult in the United States will be eligible for a vaccine. He has certainly handled the pandemic better than his predecessor had and is taking the necessary steps to ensure the most Americans possible are receiving their shots. However, Biden clearing Trump's low bar of expectations should not be worthy of high-praise. A return to competence is not a new standard of excellence.
That is essentially what Biden campaigned on: a return to normalcy, bipartisanship and unity after Trump's turbulent term.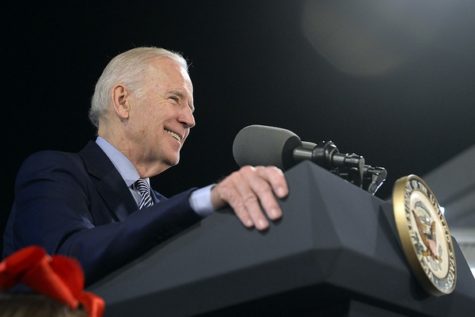 But a return to normalcy leaves Americans in a country where change is a slow, tedious process over many decades as a result of centrist Democratic and Republican policymaking. Biden is the epitome of a policy-flipping lifelong politician — one that has not pushed the envelope for social issues in Congress or the White House like a Bernie Sanders-type president could. The recent debates over the relief bill suggest Biden prioritizes appealing to both parties rather than fighting for better police reform, immigration laws and a higher wage.
Both parties dare not venture away from the center of the political spectrum, even if doing so benefits a majority of Americans. Biden's appeal to centrism seems comforting after four years of right-wing conspiracy and poor leadership plaguing the White House, but ultimately, it keeps America in the same bubble with little room for change.
Good on our president for distributing vaccines. Good on our president for passing a relief bill to help struggling Americans. Good on our president for doing the basic duties of the job. Biden's first 50 days in office have aimed to reverse the policies of Trump. However, for real change to occur, he ought to fight harder for the rights and benefits of Americans during the next four years.